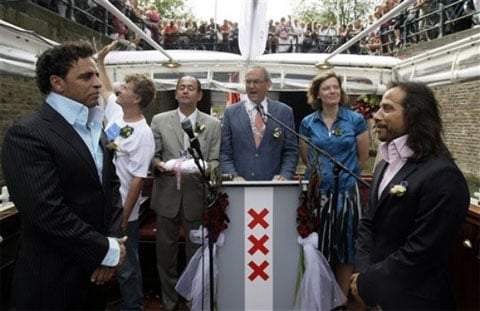 Amsterdam Mayor Job Cohen married several couples including five gay couples, each with a partner from Amsterdam and New York, on a boat in a canal during the city's Gay Pride festival on Saturday.
Reuters reports: "Tens of thousands of spectators cheered as Mayor Job Cohen performedthe ceremony on a cruise around the city's canals to celebrate the highpoint of the city's gay pride festival. Eight years ago Cohen presidedover the first legal Dutch gay marriage. All five couples had at least one partner from New York, where a battle over the legalization of gay marriage rages on. 'For me it's a message to New York, the most liberal state, the mosthip state, to get with it,' said Ira Siff, an opera professional fromNew York who was about to marry his partner, opera singer Hans Heijnis. The New York-Amsterdam connection is much in the news this year,with the cities celebrating a 400-year relationship in 2009. Cohencalled the couples a 'figurehead' for that bond. 'Your transatlantic love is proof of the lasting connection between old and new Amsterdam,' Cohen said in the service."
This year's Canal Parade attracted a record 560,000 spectators.
Watch a video of Cohen marrying Jorge Vazquez (right) of the U.S.and his dutch partner dutch Stanley Doorn (above), AFTER THE JUMP…