He may not be in the movies but the movies are in him. That's Jasper, the grandson of none other than Lauren Bacall and Humphrey Bogart… or, uh, Jason Robards –not sure which since Bacall had kids by both Oscar winners — but either way, that's Classic Hollywood DNA. Bacall has asked her twitter followers not to encourage Jasper by comparing him to Brad Pitt.
Bacall has really taken to twitter and, unlike some stars whose tweets are so banal you forget they're famous — the stars. they're just like us!!! (gag) — Bacall drops movie references into hers left and right. Just this week she raved about FW Murnau's Nosferatu, Federico Fellini's 8 ½  and let it be known that Jasper was hitting on a girl with Jayne Mansfield breasts and Liz Taylor's eyes. I think Bacall's vision must be going. Nobody is ever going to have Liz Taylor's legendary violet peepers.

Remember that inspired illustrated gallery of Disney Princes in their underwear? This time the Princesses are exploring their dark side. Maybe they got sick of the Mouse House constantly exploiting their soft femininity?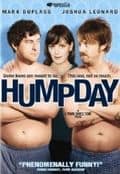 One of 2009's conversation-starter movies, Humpday, that 'best straight friends toy with the idea of gay sex' indie is not yet on DVD. But its future DVD cover is noticeably different than the film's original poster. Some people think the 'de-gaying' was a good idea and the new poster, which shoves the female lead between the shirtless best friends, better reflects the story of the film. I find the notion that marketing should be degayed because of nervous straight people offensive (to both gays and straights) but I'm way more offended that the DVD cover is straight up hideous. How can Hollywood continue to inflict poorly photoshopped movie posters and DVD covers upon us? They're in the image business and they never think about aesthetics when they're shilling their product.
Meryl Streep or any simulation thereof is ALWAYS good for the funny. This is a must read "Name One Masterpiece of Cinema That I've Starred In"
Meryl turned 60 this year and with Woodstock celebrating its 40th anniversary and Meryl's daughter Mamie Gummer co-starring in Taking Woodstock we come full circle. What was America's Great Actress doing that summer she turned 20, anyway? Can you picture her as a stoned music loving hippie? Maybe you can picture her as anything.