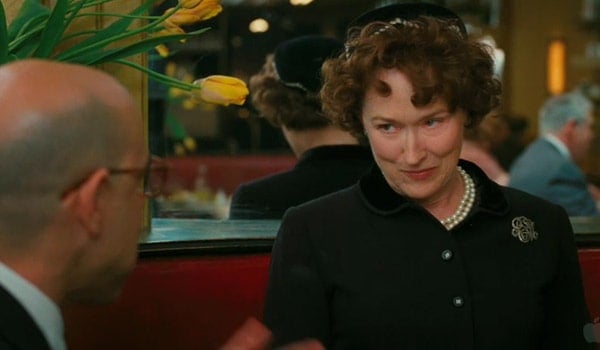 NATHANIEL ROGERS Nathaniel Rogers would live inside a movie theater but for the poor internet reception. He blogs daily at the Film Experience.

Review
If you generally catch dinner after your weekend movie, rethink the order before catching
JULIE & JULIA. It'll help you passively enjoy this foodie's dream movie rather than drooling on it actively. Though the movie shares its title with Julie Powell's blog-turned-novel "Julie & Julia" which chronicled her attempt to cook all of the recipes in Julia Child's Mastering the Art of French Cooking, the narrative is doubled. The movie version also includes the origin story of Julia Child as she journeyed from culinary student to famous chef. The parallels between Powell (Amy Adams) and Child (Meryl Streep) are broadly and pleasurably drawn by the movie: two restless women with devoted, patient husbands, find self-fulfillment through cooking. And cooking. And cooking some more. I suspect the double stuffed film will be easiest to enjoy while leisurely digesting.
If there's a missing ingredient in the movie's fun recipe, it's dramatic conflict…
MORE, AFTER THE JUMP…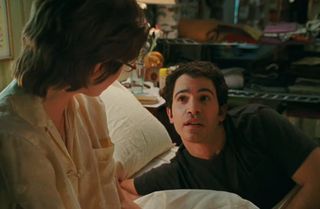 Julia Child's legend-making book Mastering the Art of French Cooking was locked up in development, rewrites and publishers' cold feet for years. Unfortunately, waiting isn't an action verb so much as a repetitive state of inaction. Julia Powell's miniature parallel story also involves self doubt and lots of writing. (Filmmakers have been trying to dramatize writing since the movies began and they still haven't cracked that inert nut — writing is not exciting to watch.)
To find room for Julia Child's endearing tale, Powell's popular blog-turned-novel is robbed of some of its idiosyncratic spice. (Notably missing: the author's David Straitharn, Buffy the Vampire and gimlet obsessions. We relate to all three.) Consequently half of the movie falls a bit flat. Attempts to punch up the drama in Julie's half of the picture are either nuisances (her bitchy friends seemed to have arrived straight from the set of a wholly inferior chick flick)  or well meaning stand-ins for real tension. When Julie's husband, adorable everyman Chris Messina (Vicky Cristina Barcelona), becomes understandably infuriated with her self-absorbed obsessive project, you know he'll come around again in the next scene. He's too perfect a husband, and too parallel to Child's own eternally patient husband (wonderfully played by Stanley Tucci), for you to fear that he'd ever abandon her.

For all of that, complaining about the lack of appetizing drama undersells the simpler sensual side dishes that the movie has plenty of: endearing performances, terrific cameos (Jane Lynch is always welcome), colorful scenes, giddy comic notes, and of course the abundant food. Child's culinary creations and Powell's obsessive copies are beautifully photographed throughout. I ate immediately before the movie and was still hungry for most of the next 123 minutes.
You won't be surprised to hear that the main course is Meryl Streep as Julia Child. The twin joy of watching Julia Child's contagious love of food served up by Meryl Streep's contagious love of acting should not be underestimated. Julia Child closed each of her cooking shows with a simple "Bon Appetit." It could just as easily be an introductory catchphrase to any of Streep's gourmet performances.
Bonus Scene
Julie & Julia is bound to be Meryl's third summer smash in just four years. Since it will also usher in another round of speculation about just when Meryl will win that surprisingly elusive third Oscar, I thought I'd share a video I made in June celebrating her career. Though several legendary actresses have had late-in-life final hurrahs, we've never had a movie goddess this bankable, beloved and still prolific at 60 years of age.
She really is a national treasure. Her face should be carved into a mountain or placed on legal tender. At the very least let's get her a postage stamp already.