The editors of Modern Tonic present a weekly music update here on Towleroad. The rest of the week, they scan the pop-culture landscape for movie, TV, book and Web recommendations in their daily email.

ARTISTS TO WATCH AND FREE DOWNLOADS: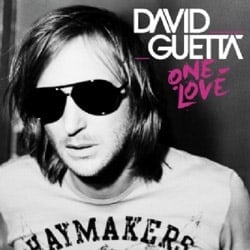 The French DJ/producer David Guetta introduced himself to the world with an album called F**k Me I'm Famous, which — come to think of it — we'd like on our business card. That sentiment might have been wishful thinking in 2003, but it's a fact now, as evidenced by the A-list guest vocalists on his hi-NRG One Love, out August 25 (SAMPLE IT IN A FREE DOWNLOADABLE MEDLEY HERE). From the worldwide summer club smash "When Love Takes Over" to the Akon-on-AutoTune "Sexy Bitch" and Estelle's jubilant disco hustle on the title track, Guetta's at the top of his — and every other DJ's — game. In a year of great club-friendly records — including MSTRKFRT's Fist of God and Simian Mobile Disco's forthcoming Temporary Pleasures — One Love is the club-banging king. And let us be the first to say that Ms. Kelly Rowland, who appears on "When Love Takes Over" and two other tracks here, has found her true calling. Disco diva is your destiny, child.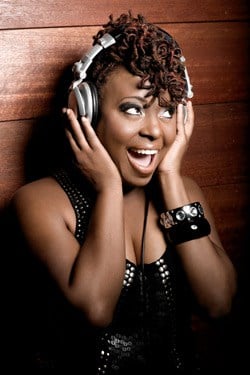 The difference between Grammy-nominated R&B singer Ledisi's last release, Lost & Found, and her latest, Turn Me Loose (out today), is evident before you play one note of the new album. The cover of L&F was a dark, muted, twilight image of the performer. Turn Me Loose features Ledisi throwing down at the mike, clad in black and popping against a bright red background. And when she counts down to leadoff track "Runnin'" with "Keep your faith, stay strong, move forward," and the rock-ish dance groove kicks in, you'll hear an artist unleashed. If L&F was a midnight storm of love and hope, Turn Me Loose is the carnal prequel — the girl's on the prowl. Last time an R&B singer was this feral, Chaka Khan was still fronting Rufus. Old school meet new school. Now everybody go off and get laid. GRAB A FREE DOWNLOAD OF "GOIN' THRU CHANGES" HERE.



MUSIC NEWS:

Christina Aguilera is getting her hands dirty in the studio, collaborating with Santigold, M.I.A. and Ladytron.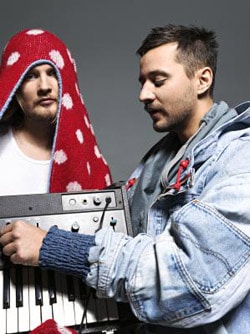 Taking a page from fellow Idol alumnus Kelly Clarkson, Adam Lambert has teamed up with Swedish producer Max Martin — who worked on Clarkson's "Since U Been Gone" — for his upcoming album.



Watch out, New York, San Francisco and L.A.! Röyksopp, the Norwegian synth-pop duo whose Junior has been playing on repeat on our iPods this year, will finally be coming Stateside for just four shows in those three cities this November.



Bad Lieutenant — the new band comprised of New Order's Bernard Sumner and Phil Cunningham, as well as new addition Jake Evans — is streaming their first single entitled "Sink or Swim" on their Myspace page.

Yellow Sound Label is a new record label (do they still call them that? how about digital sound  recording label?) that has just launched, announcing new albums from stage performers Alan Cumming (Sept. 22), Chita Rivera (!) and West Side Story's Karen Olivo.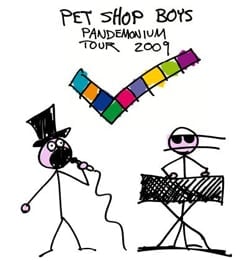 The folks over at Entertainment Weekly are on a quest to declare The Greatest Guilty Pleasure Act of All Time. But they're not making the choices — everyone who participates online is, via a nifty series of match-ups. First up: Nickelback vs. Phish (we abstained from that one) and Britney vs. Pussycat Dolls. No contest there!


Modern Tonic is giving away ten pairs of tickets to see Pet Shop Boys' Pandemonium Tour 2009; one pair in each of ten markets. U.S. dates start September 1 in New York City.


TODAY'S NEW RELEASES: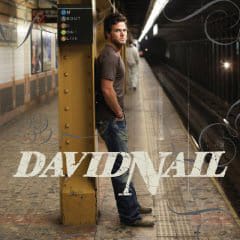 After an aborted debut for Mercury Nashville Records in 2002, mainstream country hunk David Nail finally releases his first album, I'm About to Come Alive, featuring a remake of Train's title track.
Though overshadowed by their parent band Bauhaus, Love & Rockets finally get a tribute album with New Tales to Tell, featuring remakes by acolytes The Flaming Lips, Blaqk Audio and more.
Imagine The Cure's Robert Smith turned New Wave soulman and you might approximate English singer Jack Peñate's sophomore release Everything Is New.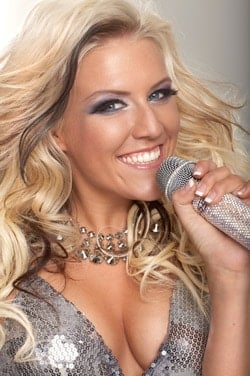 Also released: Inglourious Basterds — soundtrack; Cascada — Evacuate the Dancefloor; Reba  McEntire — Keep on Loving You; Third Eye Blind — Ursa Major; Colin Hay — American Sunshine; Brendan Benson — My Old Familiar Friend; MuteMath — Armistice; Joe Henry — Blood from Stars; Simian Mobile Disco — Temporary Pleasure (import); Calvin Harris — Ready for the Weekend (import); singles from A Fine Frenzy ("Happier"), Brandi Carlile ("Dreams"), Nelly Furtado ("Manos al Aire" Tiësto Remix), Mika ("We Are Golden").

MUSIC VIDEOS:
The Sound of Arrows: "Into the Clouds"
Filmed in Technicolor, this clip from the Stockholm techno duo NME calls "Enya-loving Disney characters" is fantastically twee and catchy-annoying in the best possible way.
Lights: "Saviour"
The first single from the Canadian dream pop artist's debut album, The Listening, features Lights aka Valerie Poxleitner as an animated heroine on an interstellar adventure.
Bananarama: "Love Comes"
Robert DeNiro can stop waiting! Bananarama offer this Eurodisco single "Love Comes" from their forthcoming European release, Viva (due in September).
David Gray: "The Fugitive"
The wobbly-headed troubadour from Greater Manchester gets literal on this first track from his forthcoming Draw the Line. As he plays alone in a stark room, artwork magically happens all around him. Just another day in the life of David Gray.