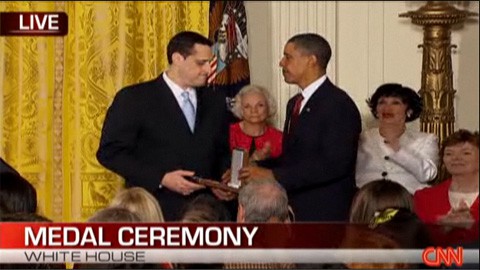 UPDATED
President Obama honored 16 people today with the Presidential Medal of Freedom, the nation's highest civilian honor. Among them are gay rights pioneer Harvey Milk and tennis player Billie Jean King.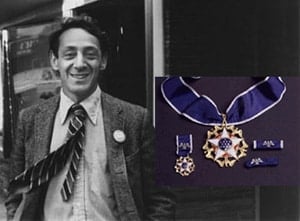 The medal recognizes people who have made "an especially meritorious contribution to the security or nationalinterests of the United States, world peace, cultural or othersignificant public or private endeavors."
Additional recipients this year are Senator Ted Kennedy, physicist Stephen Hawking, breast cancer activist Nancy Goodman Brinker,physician Pedro Jose Greer, Jr., former Congressman Jack Kemp, Rev. Joseph Lowery, last living Plains indian war chief Joe MedicineCrow, former Supreme Court Justice Sandra Day O'Connor, actor Sidney Poitier, actress Chita Rivera, former President of Ireland Mary Robinson,geneticist Janet Davidson Rowley, Archbishop Desmond Tutu, and anti-poverty leader Muhammad Yunus.
Milk's nephew Stuart accepted the medal. Sadly, Ted Kennedy was too ill to attend the ceremony. His eldest child, Kara Kennedy, accepted the medal.
Clips of Stuart Milk and Billie Jean King, AFTER THE JUMP…