A chihuahua with pink earrings was stolen from Brian Dortort at Georgie's Alibi, a gay bar in Wilton Manors, on July 28, and just now news is reaching the wires: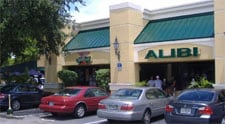 "Dotort threw a birthday party for a friend at the bar that night, and was carrying the dog in a specialty pet bag, he said. One of the dog's admirers insisted he hold the dog and grabbed her, he said. Dotort didn't suspect the dog would be stolen, he said, so he briefly left the dog in the man's possession to pick up litter from a nearby table.
In an instant, the thief disappeared with Hudson, Dotort said.
The dog, about the size of a softball, is described as light-cream colored with a pink belly and pink ears. She has a pink earring in each ear.
Wilton Manors police investigated the theft and identified a suspect whose whereabouts are unknown, police spokesman David Jones said. It's up to the Broward State Attorney's Office to decide whether there's enough evidence for an arrest warrant to be issued, police said.
Dortort described the thief as a thin man about 5 feet 10 inches tall. He weighs about 160 pounds, has short brown hair and tattoos, including one on his arm or neck that says 'Britney Spears.'"
Image above for illustration purposes only, and not an actual photo of the suspect or the chihuahua, which, if you happen to see, you should call by the name of Hudson Hayward Hemingway. Despite the fact this sounds like a plotline from Legally Blonde, we sincerely hope the dog finds its way back to Mr. Dortort. It's awful to lose a pet.