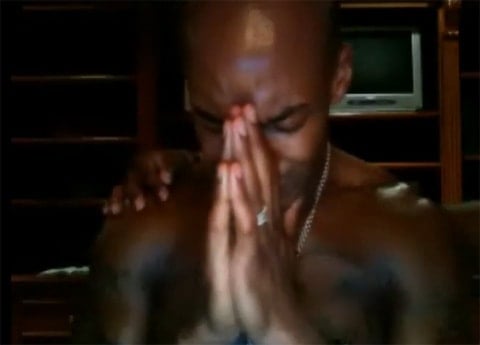 Washington Wizards center Brendan Haywood has reignited a conversation on homophobia in professional basketball after making fun of a YouTube clip which NBA free agent Stephon Marbury posted earlier in the summer. Haywood suggests there's something very "gay" about Marbury and he'd be apprehensive about sharing a locker room with him. According to Outsports, the crying and dejected behavior in Marbury's video apparently has something to do with being rejected by the Boston Celtics.
Watch the video, AFTER THE JUMP…
Said Haywood this week in a radio interview: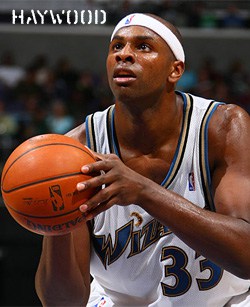 "At first it was cool, but after a while it just became disturbing. He's on YouTube crying with no shirt on for no reason, sweating while his boy's rubbing his shoulders. What's that about? That's like gay porn. I don't understand it. He's dancing to a song called 'Barbie Doll', doing like stripper moves. I have no idea what's going on with the guy, it's almost like he's trying to end his own career. There's not a GM out there that would touch Marbury right now… Have you seen the 'Barbie Doll' clip? Click on YouTube and go to Barbie Doll. There's no way any other professional athletes would wanna get dressed around this guy, because you gotta think something is a little, he's swinging from both sides of the fence."
Kelly Dwyer of Yahoo! Sports and ESPN's Kevin Arnovitz were critical of Haywood's remarks.
Haywood later posted an apology: "My last blog about some of Stephon Marbury's actions, combined with a radio interview that I did, have been misinterpreted by some as speaking out against homosexuality. I've received some comments and so have the Wizards about it. I just wanted to take a time out and let you know that no disrespect was intended. I was just trying to have fun with a crazy situation. I don't support or condemn homosexuality and I believe in everyone making choices for themselves. If it doesn't affect me, I don't really care. I hope no one was offended because I wasn't trying to come off like Tim Hardaway."
NBA Fanhouse doesn't buy it: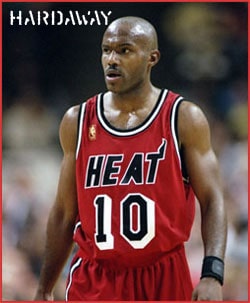 "But in that apology, Haywood invokes the name Tim Hardaway (as in, 'I wasn't trying to come off like Tim Hardaway') and offers up ye old 'if it doesn't affect me, I don't really care' response to the very existence of homosexuality.In other words, Haywood notifies us that he will continue to be a part of the problem…That kind of talk and the "I don't care one way or another" bit don't match up. You do care, Brendan. You're a professional athlete, and you're saying you don't want to get dressed next to a guy who might be bisexual or gay. You're entitled to have whatever internal fears you want. No one can put you on trial for getting nervous around a gay man, just as no one can prosecute a white woman who clutches her purse tightly when passing you on the street. Both fears are ignorant and accessory to a perpetual, destructive existence of fear of The Other. But they are your own fears.The problem is when you transform those fears into public opinions. And when you spout those wrong and ignorant opinions unprovoked in a broadcast conversation, and attach said opinions to the whole of the professional athlete fraternity, you forfeit your right to be indignant regarding negative reactions to your private, personal fears, since you have made those a topic of public discourse. You cannot make a homophobic comment and days later distance yourself from it by saying you have no problem with gay people."
Watch Stephon Marbury's video, AFTER THE JUMP…
The video also has a rear version: