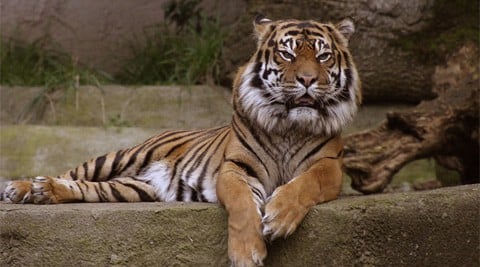 Barbaric poachers, perhaps signaling a new trend in illegal wildlife trade, allegedly climbed a fence at the Taman Rimbo Zoo in Jambi, Indonesia over the weekend before taking  their prize:
"Sheila, who had been the only Sumatran tiger remaining
at the zoo, was killed and skinned on zoo grounds after being drugged
by poachers early on Saturday, leaving virtually nothing behind except
the innards and a few ribs of the animal, which is critically
endangered in the wild. 'There is no doubt that the killers
were professionals because they did their job very cleanly, taking off
the skin in the enclosure rather than dragging the 100-kilogram animal
out, which could have attracted attention,' said Didy Wurdjanto, the
head of the Jambi Natural Resources Conservation Center."
There is discussion that the poaching could have been an inside job. There are  believed to be between 100 and 400 Sumatran tigers left in the wild. Now the ones in zoos apparently have to worry as well.