Survivor winner Richard Hatch was moved from house arrest to confinement again shortly after his interview with Matt Lauer on Tuesday, but no details were readily available as to the reason he was detained: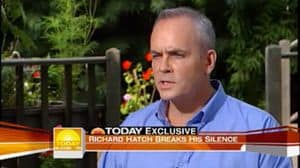 "The former "Survivor" star was taken to the Barnstable County Sheriff's
Office in Bourne, Mass., which has a contract with the Federal Bureau
of Prisons to hold federal inmates. 'We just don't have the same kind of details
on the federal inmates we book as we do with the regular city and
county inmates,' explained Sheriff's Office spokesman Roy Lyons. 'It's
got to be that he violated some kind of condition. There's no other
reason this would have happened.' Traci
Billingsley, a spokeswoman for the Federal Bureau of Prisons, told
TODAY that her agency could not reveal specific information about
Hatch's situation, adding that there are a variety of reasons to return
inmates from house arrest to confinement. Before
being taken back into custody, Richard Hatch had to get permission a
week in advance to leave his sister's property for any reason."
In Tuesday's interview Hatch maintained his innocence regarding his tax evasion conviction and said that he believes the judge had it out for him because he is gay.
UPDATE: Hatch was arrested because he neglected to get permission from the Bureau of Prisons to speak with the press.