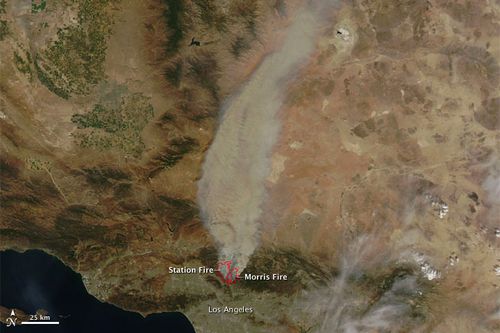 Our thoughts are with those of you in Southern California affected by the fires. Governor Arnold Schwarzenegger has declared a state of emergency as fires encroach on a set of important media communications towers atop Mount Wilson.
Whatever you do, don't try to ride out the fire in a hot tub: "While thousands have already fled the Station fire, two people whotried to ride out the firestorm in a backyard hot tub were criticallyburned. The pair in Big Tujunga Canyon, on the southwestern edge of thefire, 'completely underestimated the fire' and the hot tub provided 'noprotection whatsoever,' Sheriff's spokesman Steve Whitmore said Sunday."
A news report as well as a time-lapse video of plumes of smoke from the Station Fire over L.A., AFTER THE JUMP…
Time Lapse Test: Station Fire from Eric Spiegelman on Vimeo.