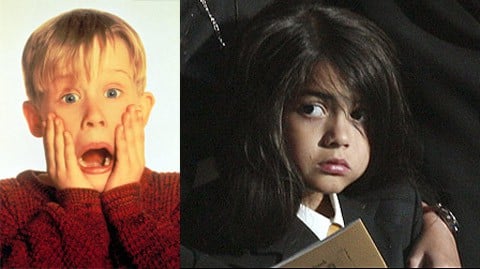 UPDATED
Macaulay Culkin is the latest name being tossed about as the biological father to Michael Jackson's son, Blanket.
Via Brit tab The Sun: "Fevered speculation gripped the US after repeated claims that a 'well-known Hollywood actor' donated the sperm for Blanket. Now sources close to Jackson say the Thriller star asked Culkin for the donation to help him complete his 'perfect' family.The source added: 'This isn't just chitter-chatter, even Culkin suspects he's Blanket's father. So many names have been mentioned as prospective dads, and this is probably the wackiest yet. But Jackson and Culkin were best friends. He was one of the few people Jackson really trusted and Mack never let him down. Really, Jackson idolised him – that's why he asked Mack to donate sperm. Deep down, I think he always wished Mack was his son. Creating Blanket was the next best thing.'Culkin – godfather to Jacko's other two children – has told pals he will not comment in public out of loyalty to his late pal."
Can't you just see the resemblance?
UPDATE: Culkin's publicist responds — "The inquiries are too preposterous for us to even acknowledge."
In related news, on Saturday 12, 937 people tried to set the Guinness World Record for largest group dance to Thriller. Watch, AFTER THE JUMP…