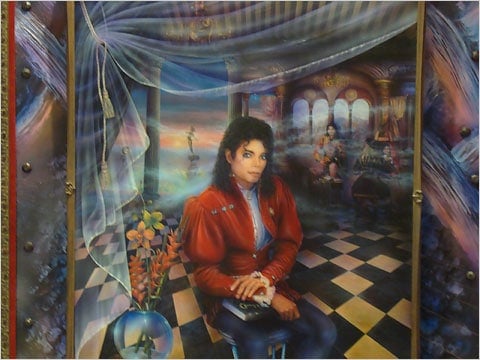 A portrait of Michael Jackson, the only one he ever sat for, has been put up for sale, as its owners see opportunity in the singer's death.
"The 50-by-40-inch painting, called 'The Book,' was done in 1990 by an Australian artist, Brett-Livingstone Strong, who was a close friend of Mr. Jackson and shared his taste for slightly fantastical style of life and dress.The portrait depicts Mr. Jackson dressed in red velvet holding a journal of thoughts and sketches. 'We called it, 'The Book,'' Mr. Strong said. 'What are you going to put in 'The Book' today, Michael?'' The backdrop is Neverland, with an image of Tinkerbell. The painting has touches of Vermeer, as that was one of Mr. Jackson's favorite painters, Mr. Strong said.The painting is owned by two toy inventors, Marty Abrams and John Gentilly, who received the painting in 1992 from a Japanese businessman who had bought it to make good on a debt he owed the inventors."
It's currently on display at the Dancy-Power Automotive at Lenox Avenue and West 129th in Harlem, near the Apollo Theater.
In related news, yesterday it was reported that Katherine Jackson, Jackson's mother, would be awarded custody of Prince, Paris, and Blanket, Jackson's children. Together, they were left 80% of Jackson's estate. A report on the court hearing, AFTER THE JUMP…