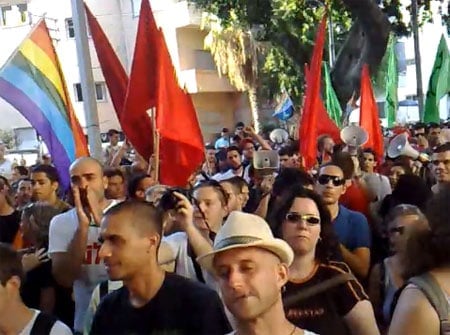 Above, more video from a rally reacting to the Tel Aviv shootings. Video, AFTER THE JUMP…
A small vigil was held in SoHo Square in London yesterday. More are being planned in the U.S.
In San Francisco, there will be a march on Monday night (8/3) beginning at 5:30 pm at the Congregation Sha'ar Zahav (16th at Dolores — the largely LGBT Synagogue) that will head to the LGBT Center (Market/Octavia) by 6:30 p.m. for a vigil.
Another vigil Monday night is planned at Dupont Circle in Washington D.C. at 8:15 pm. Information here.
A vigil is also being planned for Los Angeles on Thursday. It has a Facebook page.
Youth Today is planning a second vigil in Los Angeles on Friday, August 7. Information here.
In New York, a vigil is planned at Congregation Beth Simchat Torah, 57 Bethune Street, on Wednesday, August 5 from 7-8 pm.
If you have information on vigils in other cities across the U.S., please email it to tips (at) www.towleroad.com.
Video of the Tel Aviv rally, AFTER THE JUMP…
Kadima leader Tzipi Livni is speaking in this video.