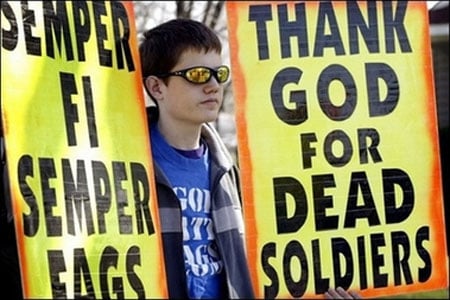 A federal appeals court reversed a $5 million judgment (originally an $11 million judgment, which was reduced) against Fred Phelps' Westboro Baptist Church, ruling that the church's protest outside the funeral of an Iraq veteran was free speech:
"The ruling from the 4th U.S. Circuit Court of Appeals in Richmond, Va.,held that the signs and writings of the Westboro Baptist Church, whichincluded anti-gay and anti-military messages, are protected by theFirst Amendment. The Topeka-based congregation has protested atmilitary funerals across the country."
The dead Marine's father says he will appeal to the U.S. Supreme Court.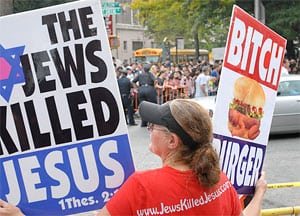 In related news, the WBC has begun an assault on New York City, targeting Brooklyn Tech because the school says "it's OK to be gay."
They'll also target Jewish temples:
"The bigots will protest on Saturday in front of Congregation BethElohim on Eighth Avenue in Park Slope at 9:45 am, at Union Temple onEastern Parkway in Prospect Heights at 10 am and the Kane StreetSynagogue in Cobble Hill at 12:30 pm on the eve of Yom Kippur, theholiest day on the Jewish calendar. On Wednesday, church spokeswoman Shirley Phelps-Roper said the rallies were not anti-Jewish or anti-gay. 'How about we call it an 'Obey your God' rally?' she said. 'You Jewsand gays have got to put away your false gods, your idols and yourfilthy way of life.' She added that 'God hates the disobedient.' … 'We picked these weekends because these are the high holidays,' shesaid. 'You Jews broke the covenant with God. The beast is going tobring the nations to march upon Jerusalem. Your houses will bedestroyed and your women ravaged. It's going to make the Holocaust, theBabylonian captivity and the destruction of the Temple look like a teaparty.'"
A video of the group outside Jewish Theological Seminary yesterday, singing "Hava Nagila", AFTER THE JUMP…