University of Alaska Fairbanks hosting "ex-gay" evangelist Ernie Delgado: "His visit is being promoted by Campus Bible Ministries as an example
of someone who escaped a gay lifestyle, and how others can do the same. Some students and faculty are offended by the visit. A few students silently protested outside 1 of this week's lectures."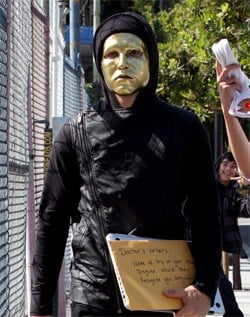 Who is that masked man?

Indian government defers taking stand on High Court decriminalization of gay sex ruling.

Outfest to honor Alan Poul and Clear Channel.

Gay ministry candidate in Scotland pulls out for fear of splitting church: "Dmitri Ross, who was put forward as a candidate for the ministry by the
Presbytery of Hamilton, said he believed his withdrawal was in the best
interests of the Church. If ordained, he would have been the first
Church of Scotland minister in a civil partnership to be approved since
a two-year moratorium on gay appointments was agreed at the General
Assembly in May."

Mary Travers of Peter, Paul, and Mary dies at 72.

Coach store manager accused of gay harassment over Hershey Kiss puns.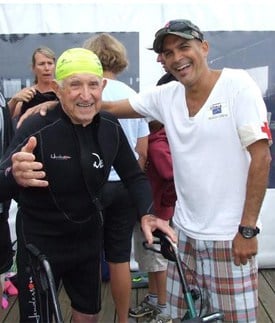 363 swimmers Swim for Life in Provincetown AIDS fundraiser.

Executive Director of Equality Federation Toni Broaddus criticizes Cleve Jones over his remarks that a state-by-state strategy for the gay rights movement is a "failed" strategy: "So let me make a very public request of you, Cleve. Could you please
stop saying that the state strategy is a failed strategy? Instead,
could you acknowledge that we have achieved key victories for equality
in the states? I understand that you believe the time has come for a
federal strategy, and I'm not challenging that opinion here or
suggesting that you modify your views. I am, however, asking that you
get your facts straight."

Taunton, UK man assaulted in homophobic attack.

GLBT Atlanta's gentle reminder: Atlanta Eagle still open.

$100,000 more pledged for Cleveland, Ohio's Gay Games bid.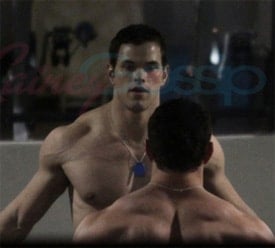 Twilight's Kellan Lutz checks himself out at a gym in Vancouver.

Matt Damon on gaining 30 pounds for The Informant: "You know, I liked parading around the house with my belly hanging out.
I would do like kind of the sexy walk, but I clearly shouldn't have
been doing that type of thing."

VIDEO: Chris Brown begins community service for beating Rihanna.

Calgary, Canada judge rules letter to the editor calling gays "immoral" is free speech: "In 2002, Reverend Stephen Boissoin sent a letter to the Red Deer
Advocate which claimed that 'homosexual rights activists and those who
defend them are just as immoral as pedophiles, drug dealers, and pimps
who plague our communities.'"