UPDATED WITH VIDEO
Nancy Pelosi reportedly choked up and got "teary-eyed" at her weekly press conference today when discussing the hostile political climate in which the nation finds itself today, and referenced the assassination of San Francisco Supervisor Harvey Milk and George Moscone.
Said Pelosi: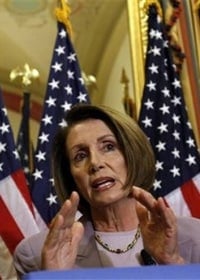 "The balance between freedom and safety is one that we have tocarefully balance. … I have some concerns about some of the languagebeing used, because I saw this myself in the late 70s in San Francisco;this kind of rhetoric was very frightening, and it created a climatewhere violence took place. I wish that we could all curb our enthusiasmin the statements that we make and understand that some of the earsthat it's falling on are not as balanced as the person making thestatement might assume…Again our country is based on people being able to say what theybelieve, but I also believe they must take responsibility for anyincitement they may cause."
Politico: "A top Pelosi aide later confirmed reporters' suggestions that herstatement was likely a reference to the City Hall murder of gay rightsactivist Harvey Milk and Mayor George Moscone in Nov. 1978 — anearth-shattering experience for Bay Area Democrats like the speaker."
Video, AFTER THE JUMP…