Duane: New York marriage vote possible this month.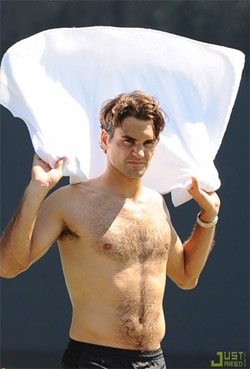 Roger's turn: Federer flaunts his fur.

Cute-ass animal story of the day #1: The 'can't get up' puppy.

Cute-ass animal story of the day #2: Rhodesian Ridgeback adopts baby pig.

DailyKos: The road to marriage equality runs through Maine.

No storms on the horizon for New Orleans 'Southern Decadence' celebration: "In the almost four decades since it started, Southern Decadence has become a traditional Labor Day weekend, end-of-summer, event. But for two of the last four years, hurricanes crashed the French Quarter-centered party. Hurricane Katrina in 2005 and Gustav last year both generated evacuation orders for the city and brought the festivities to a screeching halt."

Stephen Fry urges Twitter followers to get behind campaign seeking apology for British mathematician Alan Turing.

Sally Kern facing transgender challenger in Oklahoma.

Michael Jackson finally laid to rest 70 days after his death.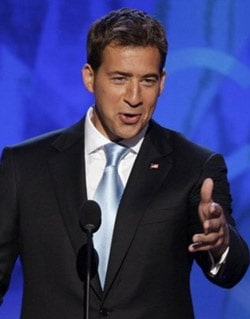 Illinois Senate candidate Alexi Giannoulias comes out for marriage equality, end to "Don't Ask, Don't Tell": "In an interview, Giannoulias said individual states should be able to
decide for themselves whether they allow same-sex couples to marry, but
that all states should be required to afford legal recognition to
same-sex marriages performed in states where they are sanctioned."

Officials: L.A. fire was arson.

Referendum 71 names still under wraps: "Signed petitions seeking a statewide vote on expanded gay partnerships
will remain shielded from public view for at least a few more days,
while a federal judge decides whether Washington state's public records
law could pose a risk to free speech rights."

ESPN commentator and coach Brad Gilbert not into "fruity" tennis outfits.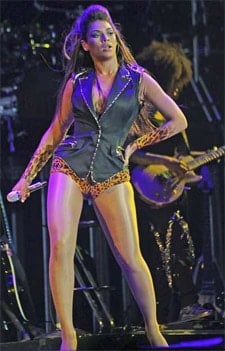 Fierce lawsuit: Project Runway's Chris March suing Thierry Mugler over Beyoncé tour costumes.

Washington archbishop Donald Wuerl steps up campaign against marriage equality: "Wuerl sent a letter to 300 local Catholic priests Tuesday reminding
them about the Church's opposition to same-sex marriage, and he
launched a round of media interviews to bolster the church's presence
in the debate."

John Waters to retire after two more movies…

You'll See: Susan Boyle to cover Madonna  on debut album.

AIDS vaccine hopes revived after discovery of HIV weak spot: "Now, thanks to the antibodies, researchers have
realised that the trimer is a viral weak spot because it's
indispensable to the virus. So unlike many other targets on the virus,
it's shared by many, if not all, strains of HIV. 'The
key is the trimer,' says Koff. 'Our hypothesis now is that if you bind
to the trimer, you neutralise the virus, as that's how it appears on
the surface of the virus.' The
antibodies are only a starting point, however, and the race is on now
to develop synthetic vaccines that have the same shape as the "weak
spot", or epitope, so people receiving vaccinations make antibodies
that recognise it when the real virus comes along."