Claims about South Carolina Lt. Governor Andre Bauer are now being blown up by State Senator Jake Knotts, who says that the accusations are part of a smear campaign by Governor Mark Sanford, even though it was blogger/activist Mike Rogers who made them.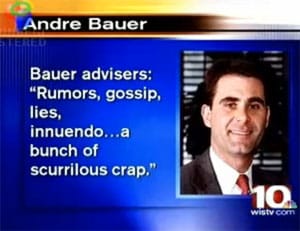 And the media has taken the hook.
Palmetto Scoop: "In a letter to South Carolina legislators, a prominent state senatorThursday said Gov. Mark Sanford's supporters were behind recentInternet rumors that Lt. Gov. Andre Bauer is gay. And he encouraged theGeneral Assembly to remove the disgraced governor immediately. 'During the last two months, we have discovered plenty of solidreasons to remove our current governor from office; but now there's onemore reason: the people trying to keep Sanford in power have stooped toa new low with this week's false character assassination of Bauer,'Knotts wrote…Knotts said individuals close to Sanford were behind the attacks, which he said were '100 percent false.' … 'As a former target of a false rumor started by the Sanford Camp Ican tell you with absolute certainty this attack was orchestrated onbehalf of Mark Sanford, either directly or indirectly, and financiallysubsidized by him or one of his many 'front-groups,'' Knotts wrote."
WIS-TV's earlier report on the Bauer "gay" revelations, AFTER THE JUMP…