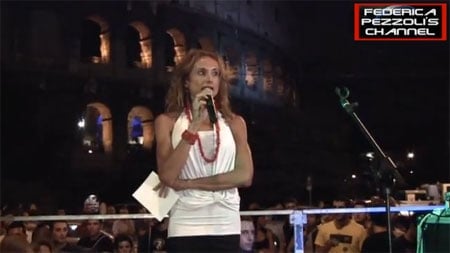 Hundreds protested near Via San Giovanni in Laterano (aka Gay Street) in Rome on Wednesday night, following a bomb attack earlier this week.
ADN Kronos reports: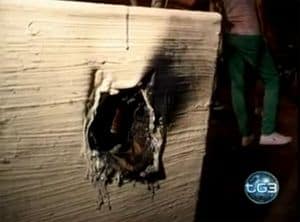 "There was widespread panic when two letter bombs were thrown at a barin a gay neighbourhood in the centre of the Italian capital Rome lateTuesday in an escalation of anti-gay violence. Italian media reportssaid the explosive devices were thrown from two motorcycles. Several people were injured in the attack, and one was taken to nearby San Giovanni Hospital for aid. 'It all happened very quickly unleashing panic in the streets.There were people screaming and running everywhere,' said the presidentof Italy's national gay rights organisation, Arcigay, FabrizioMarrazzo, quoted by Italian media. 'If anyone would have been closer [to the explosions], someonewould have lost their life,' Arcigay said on the organisation's websiteon Wednesday."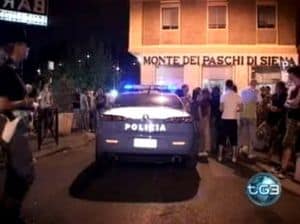 A recent surge in violence has many concerned: "Rome Mayor Gianni Alemanno said Wednesday that the attacks were 'extremely worrying' and promised to beef up security in areas frequented by homosexuals. Vladimir Luxuria (above), a transgender activist and former PM, commented that 'Rome isn't a safe city for gays' and warned of 'a cycle of homophobic terrorism'. Monday's incident is the third case of homophobic violence in Italy in under a week. Last week, a young man was stabbed in an attack near the site of Rome's summer gay and lesbian festival. Days later, a pair of tourists in Naples were beaten up by a gang of young men. The incidents spurred a gay musician in Rome to come forward saying he'd been assaulted by a man shouting insults earlier in August."
Mayor Gianni Alemmano has condemned the attacks. The gay rights group Arcigay plans to hold torchlight marches every Friday night calling for stricter laws against anti-gay violence.
An Italian news report on the attacks, AFTER THE JUMP…