The National Equality March released a current list of speakers for the rally on the Capitol's West Lawn.
Check out the list, AFTER THE JUMP…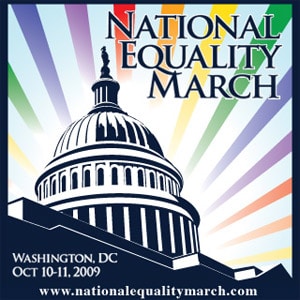 Organizers write:
"Longtime gay activist David Mixner, who in May called for a national march on Washington 'to empower our young and to show the nation that anything less than full freedom is unacceptable,' is among the featured speakers at the October 11th National Equality March (NEM) in Washington, organizers announced today.
More than 30 speakers, representing the diversity of the lesbian, gay, bisexual and transgender community and its straight allies, will take the stage at a rally following the march on the west lawn of the Capitol.
Joining Mixner on the stage will be the national co-chairs of the march, Cleve Jones, Lt. Dan Choi,  and Nicole-Murray Ramirez.  Co-directors of the march, Kip Williams and Robin McGehee, also will be speaking. Civil rights leader Julian Bond, will be one of the featured speakers. Bond was a founder Student Nonviolent Coordinating Committee and today serves as Board Chairman of the NAACP, the country's oldest and largest civil rights organization. Bond likens the National Equality March to the Civil Rights March of 1963.   'We had a dream and marched on Washington to demand our rights; I am proud to stand with the LGBT community as they march for theirs,' he said.
St. Olaf college student Richard Aviles will be speaking on behalf of student activists from across the country, who have organized for the march and are descending on Washington. Also speaking will be Judy Shepard, who lost her son Matthew to a murder motivated by anti-gay hate and who founded the Matthew Shepard Foundation in his memory. The Foundation is dedicated to working toward the causes championed by Matthew during his life: social justice, diversity awareness and education, and equality for gay, lesbian, bisexual and transgender people."
Check out the list, AFTER THE JUMP…
Stuart Applebaum
Richard Aviles
Jarret Barrios
Dustin Lance Black
Julian Bond
Marsha Botzer
Staceyann Chin
Lt. Dan Choi
Tanner Efinger
Hawaii Board of Education Member Kim Coco Iwamoto
Cleve Jones
Michelle Lopez
Robin McGehee
David Mixner
Nicole-Murray Ramirez
Chloe Noble
Tobias Packer
Reverend Troy Perry
New York City Council Speaker Christine C. Quinn
Los Angeles Council Member Bill Rosendahl
Babs Siperstein
Judy Shepard
Maxim Thorn
Urvashi Vaid
Derek Washington
Falls Church City Council Member Lawrence Webb
Kit Yan
Kip Williams
Sherry Wolf