Stephen Burgmeier, a GOP candidate funded to the tune of $86,080 by the National Organization for Marriage (NOM) in a special Iowa House election, lost to his Democratic opponent by a slim margin, the Des Moines Register reports: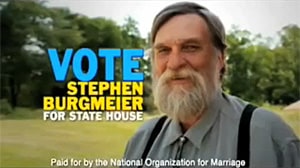 "Democratic candidate Curt Hanson, a retired schoolteacher, won against
GOP candidate and Jefferson County Supervisor Stephen Burgmeier by
3,932 to 3,825 votes, according to unofficial tallies. 'We
predicted it would be a close race and it was,' Hanson said of his
107-vote victory. 'I think what surprised me was the total state
attention and, perhaps, even national.' Republicans acknowledge the loss was unsettling, but said the closeness
of the race means that their future is bright and that they will gain
ground in next year's House, Senate and gubernatorial races."
Earlier this week, a formal complaint was filed against NOM in Iowa in response to the group's failure to disclose the names of their donors, which is legally required.
The paper adds: "The election is likely to be one of the most expensive House races in
Iowa history, said Charlie Smithson, director of the Iowa Ethics and
Campaign Disclosure Board."
Previously…
Official Complaint Filed Against NOM in Iowa, Demanding Disclosure [tr]