The Indian government will not contest a July ruling by the nation's highest court decriminalizing homosexuality.
Hindustan Times reports: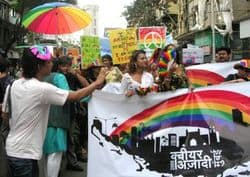 "The note, likely to be put up before the Union Cabinet on Thursday, was
prepared after meetings between the Home, Health and law Ministries. It
states there appeared to be no "legal error in the judgment, which has
not struck down the entire Section 377 of the Indian Penal Code (IPC)",
given by the high court on July 2…The fresh government note is learnt to have been prepared on the
basis of the opinion given by union Law Secretary TK Vishwanathan. 'Since the court has not struck down the entire section, and has
confined itself to consensual acts in private, it will be difficult for
the government to question the HC judgment,' the Law Secretary stated."