Mormon elder Bruce Hafen lied to a group of gays at an "ex-gay" therapy conference at the LDS Church's Joseph Smith Memorial Building in Salt Lake City over the weekend, telling them that homosexuality is "not in your DNA," the Salt Lake Tribune reports: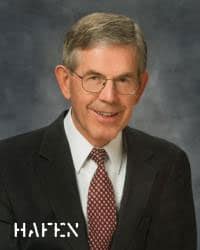 "Hafen promised
attendees, 'If you are faithful, on resurrection morning — and maybe
even before then — you will rise with normal attractions for the
opposite sex.' Whenever the devil — whom Hafen referred to as 'the adversary' —
tries to 'convince you that you are hopelessly 'that way,' so that
acting out your feelings is inevitable, he is lying,' Hafen said. 'He
is the father of lies.'"
Hafen also called recent studies by the American Psychological Association which concluded that "ex-gay" therapy doesn't work politically motivated:
"In the early 1970s, the
public and most lawyers, doctors and therapists saw homosexuality not
as normal adult behavior but as a psychological disorder. We
have witnessed primarily an aggressive political movement more than
we've witnessed substantive change in the medical or legal evidence."

In its report, the APA said that there is no evidence to suggest that sexual orientation can be changed through therapy and mental health professionals should help patients "explore
possible life paths that address the reality of their sexual
orientation."
One of those paths should obviously be to leave the Church of Latter Day Saints.
In related news, the gay Mormon group Affirmation also held its annual conference in Salt Lake City over the weekend: "On Friday, the group, in
town for its 30th annual conference, called on LDS leaders to reach out
to Mormon families — and their clergy — and provide clearer direction
on how to respond when a daughter, husband, wife or brother comes out
as gay. But Affirmation is not waiting for the church to lead the effort.
It has launched a new campaign ,'Keep Them and Love Them,' centered on
an informational Web site that is a work in progress."