David Bell, a gay man who (with his partner Daniel Fair) was brutally beaten by his neighbors after removing their young children from a rowdy party they were having and bringing them next door to their house to keep them safe, has been acquitted of all kidnapping and burglary charges: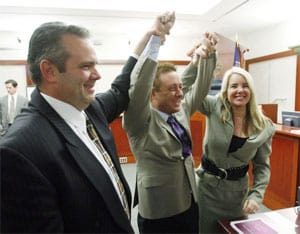 "The 3rd District Court juryof five men and three woman took less than three hours to acquit Bellof two counts of first-degree felony child kidnapping and one count ofsecond-degree felony burglary."
Watch the videos, AFTER THE JUMP, for a thorough look at what happened.
This was a complex case, with an ugly flip side:
"There has beenheightened interest in the case because Bell is gay, and his attorneyshave called the assault on him a hate crime. During closing arguments Friday, Kraft said the defense hadrefrained from playing the 'gay card.' But Kraft reiterated the themethat 'gay matters,' saying sexual orientation affected how Latu reactedat finding the kids inside Bell's home. 'Lulu [Latu] had preconceived notions about gay men," Kraft said. "It's why she started screaming and hit the defendant.' Kraft said Latu would have had a calmer reaction had the children turned up at someone else's home."
And a trial may yet happen for the neighbors who beat Bell and his partner: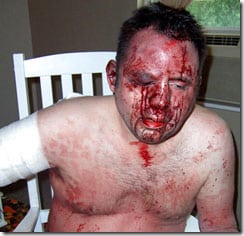 The defense team haslong maintained that relatives of the two children, who severely beatBell and his gay partner, Daniel Fair (pictured), should be prosecuted forburglary and assault. The Salt Lake County District Attorney's Office had previouslydeclined to file charges against Bell's attackers. But prosecutorAlicia Cook said Friday that her office will take another look atassault charges, now that complications imposed by the kidnapping trial. In fact, testimony at Bell's trial, which implicates the father of one of the children, could be used against him, Cook said.  Announcement of the not guilty verdicts by Judge Paul Maughan's clerk was greeted by tears, cheers and smattering of applause…Lulu Latu, the mother of one of the allegedly kidnapped children,sobbed all the way down the hall, surrounded by family, and into theelevator. Family members declined comment."
A report on the case and an interview with Bell and his attorneys and an update on the investigation into the beatings, AFTER THE JUMP…

A report on the investigation regarding the beatings: