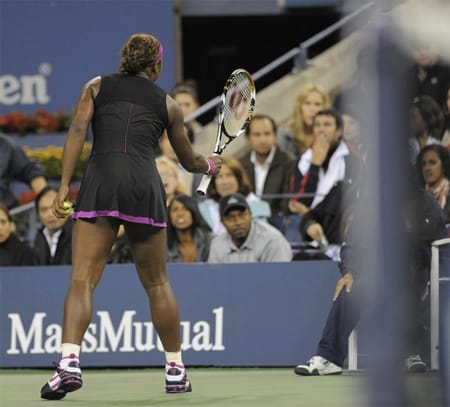 An unfortunate end to the Williams-Clijsters match last night.
Following a foot fault at match point in the semifinal she was losing to Kim Clijsters, Serena Williams approached the linesperson who had called the fault aggressively, unleashing a tirade of f-words. The linesperson told the umpire she felt threatened by what Williams had said, and a point penalty was issued. Williams thus lost the match (6-4, 7-5), and Clijsters heads to the final.
What did Serena say exactly? In an argument with officials, she was heard denying she had threatened the linesperson: "I didn't say I would kill you. Are you serious?"
According to witness reports that are circulating, Williams said to the linesperson: "You don't know me. You better be right. I swear to God I'm fucking taking this ball and shoving it down your fucking throat…"
Later, in a press conference, Williams said, "I don't know why she felt threatened."
NYT: "In a matter of confusing minutes, Williams turned what had been ascintillating women's match into an ugly and improbable spectacle thatgave Clijsters, an unseeded wild-card entry making a joyful return toGrand Slam tennis, a 6-4, 7-5 victory she could not even celebrate."
NYDN: "Really, it was all just very sad, lamentable. First there was theabsurd foot-fault call by an overzealous lineswoman on an extremelycritical point in that last game, on Williams' second serve at 15-30.Replays indicated it wasn't a foot fault at all. Then Williams wasstorming around, getting nailed with a second warning and losing matchpoint, for threatening the lineswoman over the call."
Watch the incident, and Williams' post-match press conference, AFTER THE JUMP…
Press conference: