[SPOILERS]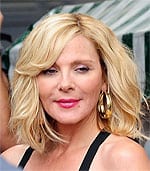 The sequel to Sex and the City has just begun filming in NYC and some details have begun to leak.
The Scoop reports: "First up: Looks like there could be a gay wedding. Life & Style is
reporting that the shooting schedule calls for a wedding scene to take
place at a Connecticut Inn, and the guest list includes Carrie,
Samantha, Charlotte and Miranda, plus Carrie's pal Stanford Blatch and
his mother and father…'All signs point to a gay union between Stanford and Anthony Marentino,
who's required to wear a black tuxedo in the scene,' according to the
magazine. 'Slated as the entertainment: Liza Minnelli.'"
More spoilers here for those who are interested.