A group of student leaders and supporters of October's National Equality March have issued a "Call to Action" to students around the nation, urging them to take part in the March, which is taking place in Washington D.C. on October 10th and 11th.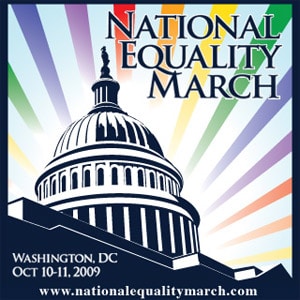 Says their statement: "The United States must end its system of inhumane segregation that continues to discriminate against LGBTQ Americans, denying equal opportunity to serve one's country, denying the equal right to marry, and denying equal access to over 1,000 rights, benefits and protections granted to all American citizens. As student leaders we refuse to remain silent in the face of what we know is the greatest civil rights movement of our generation. We must speak out and be among those who express outrage at the hatred and discrimination that is inflicted upon our fellow citizens. To remain silent is to endorse hatred. So we add our voices to the increasing millions who demand justice, freedom, and equality for America's LGBTQ citizens. We urge all students to converge on Washington D.C. on October 10th & 11th for the National Equality March. We urge our students, no matter their sexual orientation, to organize buses, planes and trains, so we may express our unity and unwavering commitment to freedom and equality. Now is the time to speak out against this outrage and now is the time to march side by side in a powerful show of force in the struggle for freedom."
Students for the National Equality March has also set up a website which provides information about connecting with other students, organizing on campus, finding housing accomodations in D.C., transportation, and downloadable flyers. The group also has a Facebook page and Twitter feed.
Students for the National Equality March [official site]
Check out the huge list of endorsements by student leaders across the country,
AFTER THE JUMP…
LIST OF ENDORSEMENTS
UNIVERSITY STUDENT BODY PRESIDENTS
Cinthia Flores, Student Body President, University of California, Los Angeles
Connor Diemand-Yauman, Student Body President, Princeton University
Anthony Chong, Student Body President, California Institute of Technology
Jon Wu, Student Body President, Yale University
Rammy Salem, Student Body President, Cornell University
Patrick McAnaney, Student Body President, Rice University
Brandon Rattiner, Student Body President, Tufts University
Liam O'Rourke, Student Body President, University of Texas, Austin
Brandon Gross, Student Body President, Tulane University
Ifrad Islam, Student Body President, Clark University
Terral Ainooson, Student Body President, University of Massachusetts, Boston
Charlie Areola, Student Body President, University of California, Santa Barbara
Kristi Kremers, Student Body President, University of Minnesota
Jake Faleschini, Student Body President, University of Washington
Utsav Gupta, Student Body President, University of California, San Diego
Jeffrey A. Anderson, Vice President of Student Affairs, University of Minnesota
Kaitlin Johnson, Vice President for Grants, University of Minnesota
Adam J. Cole, Student Body President, University of Michigan, Ann Arbor
Yi Wang, Student Representative, University of Michigan, Ann Arbor
Malaika K. Singleton, Chair, University of California, Davis
Carrie Carmody, Student Body President, University of California, Irvine
Merri Ebel, Student Body President, Carnegie Mellon University
Brody Leven, Student Body President, Westminster College of Salt Lake City, Utah
Calen Angert, Student Body President, Georgetown University
Jon Turk, Student Body President, Iowa State University
Bryce Jones, Student Body President, University of Vermont
Jarrod Wolf, Student Body President, University of Chicago
David Gobaud, Student Body President, Stanford University
Beatrice H. Boswell, Secretary, California State University, Bakersfield
Miguel Daal, Student Body President, University of California, Berkeley
Kristi Kremers, Student Body President, University of Minnesota
Carrie Carmody, Student Body President, University of California, Irvine
Joshua Sussman, Student Body President, University at Albany Student Association
Christopher M. Nagata, Student Body President, Associated Students of Arizona
Paul J. Strain, Student Body President, University of Minnesota – Twin Cities
Steven M. Glickman, Student Body President, University of Maryland, College Park
Jonathan Turk, Student Body President, Iowa State University
Robert Leary, Student Body President, Ohio University
Xavier Chen, Student Body President, Loyola University Chicago
Bryce Jones, Student Body President, University of Vermont
Andy MacCracken, Student Body President, American University
Tim Lolli, Student Body President, University of Cincinnati
Beth Cahill, Student Body President, Ball State University
Yasmin Karimian, Student Body President, University of Maryland, Baltimore County
Julie Bindelglass, Student Body President, George Washington University
UNIVERSITY STUDENT REGENTS
Jesse Bernal, Student Regent, University of California
Sarah Elfreth, Student Regent, University System of Maryland
Victor Sanchez, Vice Chair of External Affairs, UC Santa Cruz
Ben Golden, Student Regent, University of Washington
Jesse Cheng, Student Regent-Designate, University of California
Jean-Paul Willynck, Student Regent, University of Washington
Erin Lennon, Student Regent, University of Washington
NATIONAL STUDENT LEADERS
Ian Magruder, President, California College Democrats
Gregory Cendana, President, United States Student Association
David Valk, National Student Outreach Coordinator, National Equality March
STUDENT LEADERS
Todd Belok, Student Leader, George Washington University
Keeanga Taylor, Student Leader, Northwestern University
Rachelle Smith, Student Leader, University of the Arts
Andrew Striker, Trevor Project's National Youth Advisory Council, Embry-Riddle Aeronautical University in Daytona Beach, Florida
LaKeia Spady, OUT Students and Allies, Houston Community College
Corina Cantu, Student Leader, The University of Texas at Austin
Joanna Whitfield, Student Leader
Gina Sartori, Student Leader, New York University
Jessie Otradovec, Student Leader, Madison, Wisconsin
Elizabeth Bennett, Student Leader, Cornell College, Mt. Vernon, IA
Matthew Pillischer, Student Leader, Temple University
Paul Lauricella, Student Leader, SUNY Brockport
Jennifer Halligan, Student Leader, West Chester University of PA
Fermin Valle, Student Leader, Grand Valley State University
Edna Bonhomme, Student Leader, Columbia University
Chelsy Pennyamon, Student Leader, Notre Dame of Maryland in Baltimore
Brittni Tanenbaum, University of California LGBTQIA Assoc. Co-Chair
UC Santa Barbara Associated Students Queer Commission, Co-Chair
Camille White-Avian, Oregon Student Equal Rights Association, Portland State University
Matt Hill, Student Leader, James Madison University
Tim Ward, Student Leader, Michigan Technological University
Jesse Jayne Wardrip, President, SPECTRUM, University of Southern Indiana
Anne Price, Student Leader
Jaclynn Chiodini, Student Leader, University of Massachusetts, Amherst
Merri Ebel, President, ALLIES, Carnegie Mellon University
J. Eliot DeGolia, Vice President, ALLIES, Carnegie Mellon University
Steven Wyatt, Student Leader, equality, University of Illinois at Champaign-Urbana
Amy Gillette, Student Leader, Texas Tech University
Lucie Prather, Student Leader, Hunter College High School, New York City
Louis Warner-Kamsler, Student Leader, Hunter College High School, New York City
JayTee, Student Leader, Hudson Valley Community College
Joe Graumann, Co-Chair, GU Pride, Georgetown University
Carlos De Leon-Ojeda, Co-Chair, GU Pride, Georgetown University
Laura Kresse, Treasurer, GU Pride, Georgetown University
Joshua Williams, Student Leader, Northwestern University
Julien Ball, Student Leader, University of Illinois Champaign-Urbana
Mark Leach, Student Leader, University of Vermont in Burlington
Rosa Huezo, Student Leader, San Francisco State University
Sarah Wilensky, Student Leader, University of Bloomington
Carly Bell, Student Leader, University of Bloomington
Jackie Greenspan, Student Leader, University of Bloomington
Liz Mills, Student Leader, Wilmington College
Matt Hagee, Student Leader, Wilmington College
Joanne Wiedman, Student Leader, The College of New Jersey
Letitia Howard, Student Leader, Clayton State University
Brian Kwoba, Student Leader, Cambridge Rindge and Latin School
Kevin Lynch, Student Leader, Michigan State University
Kristin Lubbert, Student Organizer, City College of San Francisco
Chanelle John, Student Organizer, Simmons College
Natalie Mann, GSA Representative, University of California, Davis
Marnie Morales, Student Leader, University of California, Davis
Matt Leblanc, LGBTQ Resource Center Program Coordinator, Georgetown University
Aaron Fox, LGBTQ Resource Center Program Coordinator, George Washington University
Jared Ozga, Student Leader, Providence College
Rayyan Ghuma, Student Leader, Howard University
Suzaana Rose, Student Leader