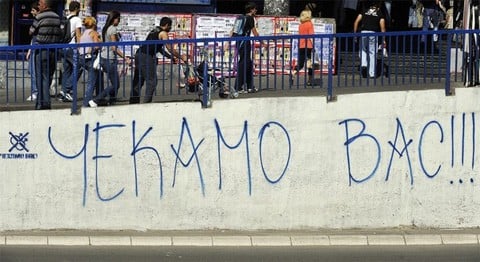 The graffiti above reportedly says, "We are expecting you" (and not in a good way) in reference to this Sunday's Gay Pride parade in Belgrade, Serbia. Graffiti (more of it below) has popped up all over the city.
Thousands of police officers will protect marchers in the country's first Gay Pride march in eight years. At a parade in 2001, participants were beaten by right-wing and ultranationalist groups.
Via Earth Times: "The parade is seen as a test for the country's pro-Western politicians, who are promoting the country's future membership in the European Union and greater tolerance.
The Serbian government said in a statement Thursday that authorities will defend the right of every citizen to freedom of expression and urged calm during the event."
Only one politician, Cedomir Jovanovic, leader of the opposition Liberal Democratic party, will participate — with his family..
This one says something to the effect of: "Stop gay parade".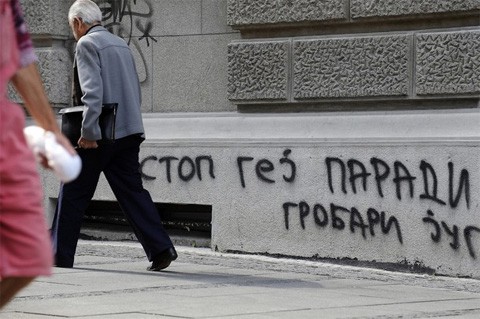 Said Mladen Obradovic of the extremist nationalist movement Obraz: "Everyone knows what will happen if they go ahead with that parade of
shame, and the responsibility for that will be of those who organized
it. If they think they can poke the entire Serbian people in
the eye, they are gravely mistaken."
"Stop pedophilia":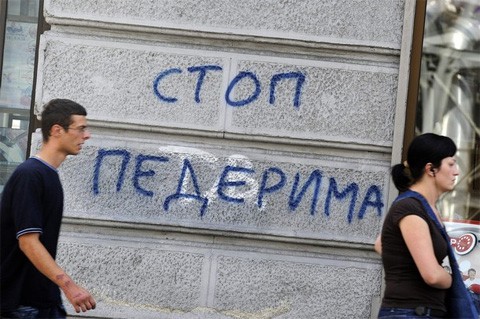 The daily paper Danas echoed march organizers who said that the march would be a "test of Democracy" for the nation. Wrote Danas in an editorial: "This event will be an important test for the country and the society
in which we live. It will show how much we honour human rights, how
tolerant we are, how much we are willing to accept the civilized norms
of Europe to which we strive, and how normal we are in the end."
At a football match on September 17: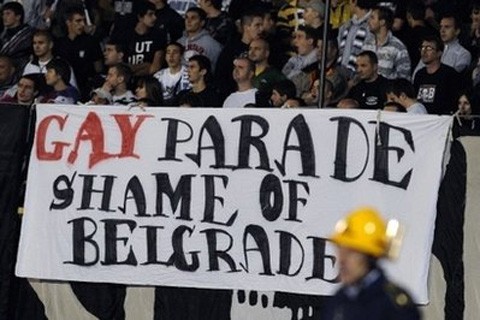 More: "Serbian Interior Minister Ivica Dacic warned that the upcoming march is
a high-risk event and that clashes are possible. He said that some
5,000 police officers will be deployed to protect the participants. Serbian
media reported that hundreds of extremists and football fans from all
over Serbia and Serb parts of Bosnia are planning to attack
participants and police with Molotov cocktails and rocks."
Said Dacic: "No recent gathering in Serbia has had such a high risk. There are clear
indications that someone is threatening (the parade) and the police will react. I appeal to all people to express their stances peacefully, without any violence, with respect of public order
and peace.We will do everything to prevent any acts of violence."