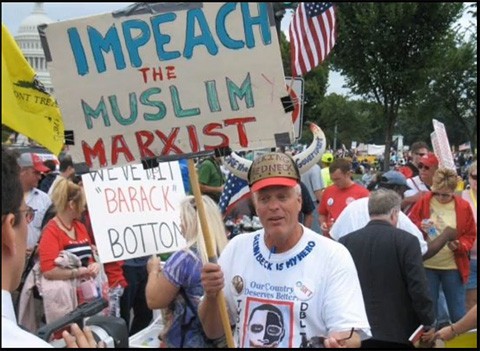 Anti-Obama Republicans held a hate rally on the National Mall in Washington D.C. this weekend. The Glenn Beck worshipers, the Joe Wilson allies.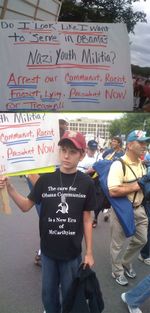 Salon reports on the alternate reality that took place, and was reported: "Crowd size estimates like the one Blackburn gave were flying around all day on Saturday. Some said they heard 1.2 million, others 1.6 million; conservative blogger Michelle Malkin said in one post that ABC News had estimated the attendance at 2 million.Malkin was wrong — ABC had never reported anything like that. In her own way, Blackburn was wrong, too. So were all the others. They weren't even in the ballpark, which most news outlets estimated in the tens of thousands and D.C. Fire and Emergency Medical Services said, unofficially, was somewhere between 60,000 and 75,000 people.Still, that size crowd is a pretty impressive accomplishment. It's certainly not as large as plenty of the protests Washington has seen over the years, including some of the more recent anti-war rallies, but considering how unfamiliar these kinds of demonstrations are to the right and the distance many of the attendees traveled to be here, it can't be dismissed out of hand."
ABC News denied that it had misreported the size of the protest, saying they had only reported what Matt Kibbe of FreedomWorks, the group that organized the event, had said.
Salon also compares the size of this rally to the size of some other recent massive rallies on the Mall.
And if you want to talk indoctrination, check out the photo on the above right, via Daily Dish.
A new website was recently created, highlighting the ridiculousness of these people: 'Look at This Fucking Teabagger'.
A slideshow of signs from the protest, AFTER THE JUMP…