Birmingham, Alabama Mayor Larry Langford, who in May 2008 refused to sign a Gay Pride proclamation, allow Pride banners on city property, or sign a parade permit because, he said, it was inappropriate for governent to endorse a lifestyle ("If I
were to sign the permit to put up banners on city right of ways I would
be condoning that which I don't condone.") has been convicted on 60 counts of taking bribes: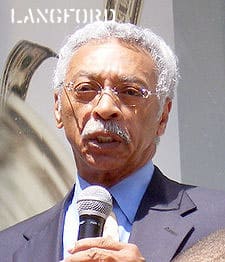 "A federal jury convicted Birmingham Mayor Larry Langford on
Wednesday on all charges of accepting bribes in exchange for funneling
$7.1 million in bond business to a prominent investment banker. As a convicted felon, Langford was automatically removed from the office that he won in a landslide in 2007. The
jury deliberated less than two hours before returning its sweeping
verdict on all 60 counts after hearing six days of testimony.
Prosecutors claimed Langford accepted cash and luxury items worth some
$236,000 while serving as president of the Jefferson County Commission.
In exchange, they claimed, Langford sent lucrative bond business to
investment banker Bill Blount. Langford, 63, showed no emotion
when the verdict was read. He was allowed to remain free on bond until
his sentencing and he agreed to forfeit $241,843. Outside the
courtroom, Langford and his wife, Melva, blamed the conviction on race. 'They struck as many blacks off that jury as they could,' he said. Three of the 12 jurors were black."
Langford has been involved in controversial scandals in the past, including one involving a charity, and, strangely enough, gay porn star Ryan Idol.