You may have heard by now of the shocking revelations that tennis pro Andre Agassi used crystal meth in the late 90's.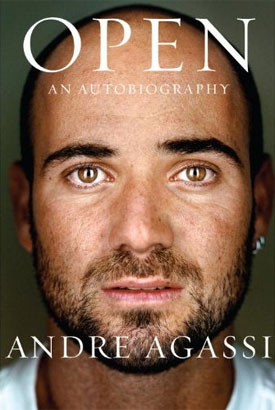 From the Times of London, which is excerpting the book:
In his book, Agassi recounts sitting at home with his assistant,
referred to only as Slim, and being introduced to the drug. "Slim is
stressed too … He says, You want to get high with me? On what? Gack.
What the hell's gack? Crystal meth. Why do they call it gack? Because
that's the sound you make when you're high … Make you feel like
Superman, dude.

"As if they're coming out of someone else's mouth, I hear these words: You know what? F*** it. Yeah. Let's get high.

"Slim dumps a small pile of powder on the coffee table. He cuts it,
snorts it. He cuts it again. I snort some. I ease back on the couch and
consider the Rubicon I've just crossed.

"There is a moment of regret, followed by vast sadness. Then comes a
tidal wave of euphoria that sweeps away every negative thought in my
head. I've never felt so alive, so hopeful — and I've never felt such
energy.

"I'm seized by a desperate desire to clean. I go tearing around my
house, cleaning it from top to bottom. I dust the furniture. I scour
the tub. I make the beds."
Agassi later tested positive for the drug:
"My name, my career, everything is now on the line. Whatever I've
achieved, whatever I've worked for, might soon mean nothing. Days later
I sit in a hard-backed chair, a legal pad in my lap, and write a letter
to the ATP. It's filled with lies interwoven with bits of truth.

"I say Slim, whom I've since fired, is a known drug user, and that
he often spikes his sodas with meth — which is true. Then I come to the
central lie of the letter. I say that recently I drank accidentally
from one of Slim's spiked sodas, unwittingly ingesting his drugs. I ask
for understanding and leniency and hastily sign it: Sincerely.

"I feel ashamed, of course. I promise myself that this lie is the end of it." The ATP reviewed the case — and threw it out.
Sporting organizations are now looking into it: "Last night John Fahey, president of the World Anti-Doping Agency, urged the ATP to 'shed light on the allegations'…The International Tennis Federation said it was 'surprised and disappointed' by the eight-time Grand Slam winner's remarks. ITF president Francesco Ricci Bitti said tennis authorities were determined to keep the sport free from drugs. 'This should not be overshadowed by an incident that took place over 12 years ago. 'The statements by Mr Agassi do, however, provide confirmation that a tough anti-doping programme is needed,' he added. Former Wimbledon champion Michael Stich suggested Agassi evaded suspension 'because he was so important to the game'. 'The
fact that he was using it, escaped drug tests and said he used it
accidentally raises a lot of questions towards the ATP,' the German
told BBC Radio 5 Live. 'Why was Andre Agassi not suspended if he
tested positive and why was it never brought to the attention of the
media and the players? Nobody ever heard about it.'"