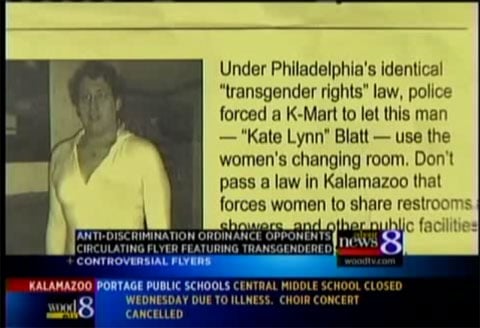 Anti-gays in Kalamazoo, Michigan are employing ugly scare tactics in the campaign against the city's non-discrimination ordinance, distributing flyers featuring images of cross-dressing gay and transgender men intended to scare voters into believing women will be endangered by being forced to share restrooms with the men pictured.
Watch a report, AFTER THE JUMP…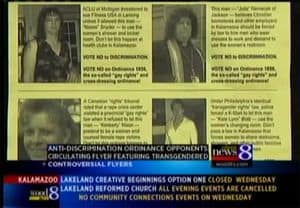 The ordinance, which has already been passed by the city commission, would make it illegal to discriminate against LGBT people in matters of employment, housing, and public accommodation.
The fear-mongering tactics used in the flyers are similar to ones we saw used in Gainesville, Florida, when "pro-family" groups there released an ad claiming (predatory) transgender people would be allowed to choose which restroom they wanted, thereby putting children at risk.
Thankfully, voters in Gainesville refused to buy the scare tactics, and voted to keep the city's anti-discrimination law in place.
Will Kalamazoo's voters be fooled? Watch WOOD's report, AFTER THE JUMP… 
In related news, a CVS manager who was an active participant in the anti-gay Gainesville campaign was arrested recently for what? Filming women in his store's bathroom.
The Gainesville Sun reports: "The CVS Pharmacy manager who allegedly admitted Friday to filmingwomen in his store's bathroom was an active participant in the 2008charter amendment to 'keep men out of women's restrooms.' Jonathan Matheny, 27, was charged with one count of video voyeurismafter a customer told police she had discovered a cell phone equippedwith a camera under a pile of tissues in the CVS bathroom at 125 S.W.34th St. Police are looking for other victims. The petitiondrive in the summer of 2008 was aimed at a city ordinance that providedrights, including equal access to public accommodation, for gay,lesbian, bisexual and transgender individuals. … 'It's a bit hypocritical when that group was allegedly putting thepetition on the ballot to protect women in bathrooms and then themanager of the store who was allowing the petition gathering was infact preying on women in bathrooms,' said Terry Fleming, spokesman forEquality in Gainesville's Businesses, the political action committeecreated to oppose the charter amendment."