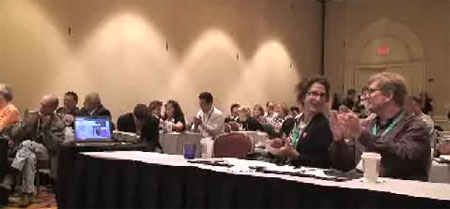 Here's a clip of a meeting of the conservative political advocacy group Americans for Prosperity shot as they heard the news that Chicago's bid (i.e. Obama's bid) for the Olympics had failed.
Hotline on Call writes: "During the Americans For Prosperity's 'Defending the American Dream Summit,' blogger Emily Marie Zanotti of American Princess interrupted a discussion about engaging the right online to announce that Chicago was out of the running — and the room erupted in applause. 'If anyone cares, Chicago is out,' Zanotti said. When the crowd asked what happened, she said, 'The very first vote, they did not have any chance at even negotiating. They were out on the first vote.' That news was met with more cheers and high-fives."
How ironic and sad that a group called 'Americans for Prosperity' would cheer down an international event that would have brought millions into the nation's economy over their partisan hatred for Obama.
Watch the clip, AFTER THE JUMP…
UPDATE: The Weekly Standard celebrates too.