George Michael denies split with partner Kenny Goss.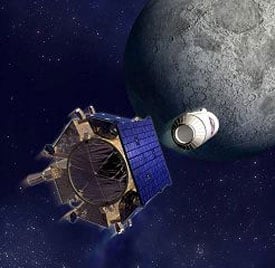 NASA probe takes aim at Moon.

D.C. police investigating man's death at "JO party": "The organizer of the men's parties, who asked that he be identified
only as David, said the victim appears to have fallen on a cement floor
in the basement of the house about 5 a.m. and possibly hit his head on
a metal pipe or a brick wall. He said he does not believe the victim
fell down a flight of stairs, as some have speculated in postings on Craigslist."

Gossip Girl ménage à trois in the works.

Chicago police officer Richard Fiorito trumped up charges against gays and lesbians, video shows.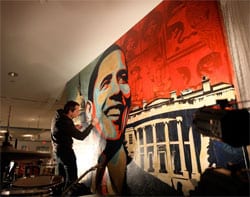 Shepard Fairey and the art of the election to be featured in new book, Manifest Hope.

WATCH: Joe the Plumber's stand-up comedy routine.

Florida student teased for being gay breaks, assaults another student: "He said he had been teased for two days and that he was upset and lost
control. He said he was sorry if he hurt anybody, but when he gets
angry he cannot control himself and that it runs in the family,
according to his Okaloosa County Sheriff's Office report."

David Beckham hangs out with his in-laws.

Spice Girls plotting reunion?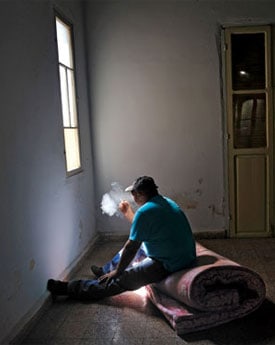 New York magazine takes a lengthy look at the danger faced by gays in Iraq.

Gavin Newsom struggling with fundraising in California gubernatorial bid?

Former Boston City Councillor sues police department, alleging gay bashing following sting over liaison with teen.

Sharon Lettman named Executive Director of the National Black Justice Coalition.

Largest ever dinosaur footprints found in France: "Imprints measuring up to 2 metres (6ft 6in) in diameter and
stretching over a vast area of land have been uncovered near the
village of Plagne, 30 miles west of Geneva, according to the National
Centre of Scientific Research. In a statement, the centre said
the significance of the prints could not be overestimated. 'According
to the researchers' initial work, these tracks are the biggest ever
seen,' it said."

Sonia Sotomayor begins work as SCOTUS justice: "in the two cases on the docket, she asked as many questions and made as
many comments as Chief Justice John G. Roberts Jr. The only sign of her
newness was that she at times forgot to turn on her microphone before
posing a question."

Backstage with Rufus Wainwright at last night's benefit for New York's Ali Forney Center.

David Letterman apologizes on air to wife and staff.

Tasmania to allow same-sex couples to register relationship.

Whitney Houston to join Desperate Housewives?

Dr. Erik Steele on marriage equality in Maine: "In the end, though, gay marriage is not about marriage or teenagers,
and it is not even about gays as much as it is about us. Over the last
250 years, Americans have slowly chipped away the bias and ignorance
used to deprive almost every American except wealthy, white men of
equal standing before the law. The right of civil marriage for gays is
about continuing that same march toward 'one nation, indivisible, with
liberty and justice for all.' You cannot oppose it without betraying
American values and the rights hard won for you by those victims of
prejudice in almost every family tree who fought in their time for the
rights we have in ours."