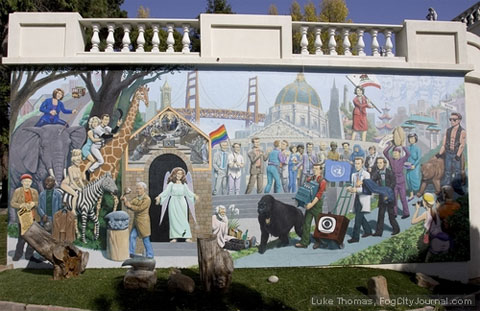 What's being described as "the world's largest mural portrait" is set to be unveiled on Sunday at the Bob Pritikin Mansion in San Francisco's Noe Valley.
Fog City Journal reports: "The colorful mural by acclaimed artist Guy Colwell features Speaker
Nancy Pelosi lancing a Republican elephant; a terminating Governor
Arnold Schwarzenegger patting the back of a grizzly bear; Senator
Dianne Feinstein bearing the California State flag; Mayor Gavin Newsom
performing a same-sex marriage ceremony; former Mayor Willie Brown
brandishing a hanging freshly pressed suit; former Board of Supervisors
President Angela Alioto donning angel wings outside the Porziuncola
Chapel in North Beach (an endeavor Pritikin helped to promote); a
singing former Supervisor Tony Hall; former Supervisor Harvey Milk
holding a Castro Rainbow Flag with former Mayor George Moscone by his
side; actress Marilyn Monroe hugging baseball Hall of Famer Joe
DiMaggio on the back of a giraffe; San Francisco Chronicle legend Herb
Caen; actress Carol Channing; Emperor Norton; Jerry Garcia; topless
stripper Carol Doda; Willie Mayes and Mark Twain, as well as the Zodiac
killer, Jim Jones and Huey Newton – all set against an iconic San
Francisco skyline."
The mural is 50 x 18 ft. The Pritikin mansion (some interesting photos here) is said to be San Francisco's largest.