Yesterday I posted about David Burk, a Geneva High School teacher who was the subject of a complaint from a student regarding a remark he made to his classes.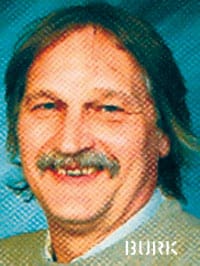 The remark, made during a discussion of the National Endowment for the Arts, was: "How would you feel about your tax dollars going to pay some black fag in New York to take pictures of other black fags?"
The Geneva School Board discussed the matter last night and voted on a resolution: "Geneva School Board members voted Tuesday night to issue a warning
against a Geneva High School teacher, who a student claimed made a
homosexual slur in his classroom last week. The notice against teacher David Burk states that any further improprieties could result in dismissal."
Said Jordan Hunter, the openly gay senior who filed the complaint against Burk: "I'm just disappointed. I'm shocked, really. This is not an acceptable end result. It was in extremely poor judgment. "Not only is it a homophobic remark, it is also a racist
remark."
Burk, who has been teaching in the district for 28 years, reportedly apologized to his classes on Tuesday: These words were inappropriate, and I am truly sorry for my actions. The message I conveyed was insensitive and
hurtful. That is not what I had intended."