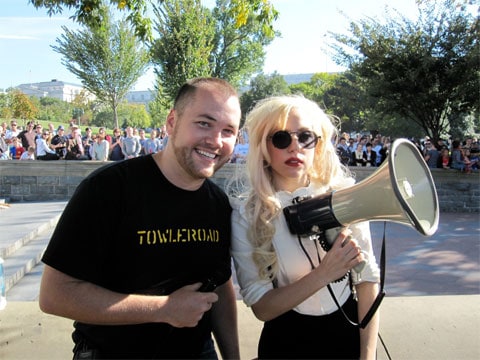 Here's a brief chat we just had with Lady Gaga following her remarks at the National Equality March this afternoon. Wow. The March was an incredible success. I've got tons of photos to go through, and plenty of video, but it takes a while to process so I'll be putting it out as soon as I can edit it.
In addition to yesterday's interviews with March co-director Robin McGehee and David Mixner, we've got an interview with Lt. Dan Choi, Hair's Gavin Creel, a brief chat with Cleve Jones, and a bunch of March footage which I'll try to whip into some sort of shape.
As far as the attendance of the March goes, the police gave us a number of between 200,000 and 250,000. The turn-out of young people was spectacular and inspiring.
I've posted our chat with Gaga, plus her remarks as carried by C-Span, AFTER THE JUMP…
Lady Gaga's remarks: