U.S. Supreme Court Justice Anthony Kennedy has stepped in to stop Washington state officials from making public the names of signers of the petition to place Referendum 71, the measure which puts the state's "everything but marriage" domestic partnership law before voters, on the ballot in November.
The AP reports: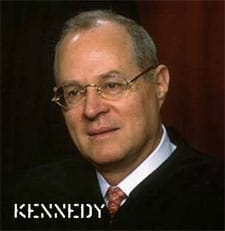 "Kennedy's ruling Monday temporarily blocks a federal appeals court
ruling last week that ordered the release of the names. Kennedy said
his order would remain in effect while he considers a request by a
pro-marriage group that asked him to reverse the appeals court ruling…In September, U.S. District Judge Benjamin Settle temporarily barred
state officials from releasing the identities of those who signed the
referendum petitions. Settle held that releasing the names could chill
the First Amendment rights of petition signers…The 9th U.S. Circuit Court of Appeals reversed Settle's decision last
week. The appeals court said Washington's secretary of state can
release the names and addresses of people who signed petitions calling
for a public vote."
A written response from state officials was requested by Kennedy today.