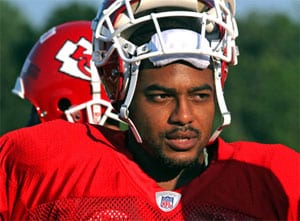 Kansas City Chiefs running back Larry Johnson apologized today for telling two members of the media to "get your faggot asses out of here" in the locker room on Monday. Johnson directed similar language at a fan on Twitter.
Said Johnson: "First of all, I want to apologize to the fans of the Kansas City Chiefs and the rest of the NFL, Commissioner Goodell, the Chiefs organization, Coach Todd Haley, his staff, and my teammates for the words I used yesterday. I regret my actions. The words were used by me in frustration, and they were not appropriate. I did not intend to offend anyone, but that is no excuse for what I said.
I also want to apologize to all the kids who view athletes as role models. I was not a good role model yesterday and hopefully I can become a better role model. We all make mistakes, and the challenge is to learn from them. I will do my best to learn from this one as I move toward becoming a better person, teammate, and member of the Kansas City Chiefs team and community."
According to ESPN, "The Chiefs have told Johnson to stay away from practice or 'other team
activities' until a review of the incident by the team and the league
is complete, the team said Tuesday."