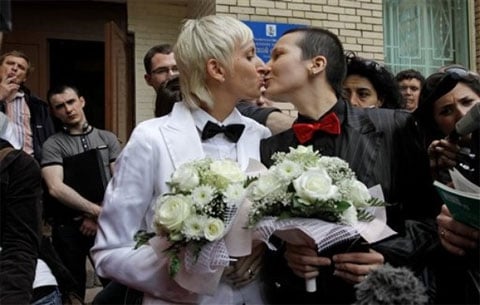 Irina Fedotova (Fet) and Irina
Shipitko, a lesbian couple who went to court after being denied a marriage certificate, have had their case thrown out of court:
"Irina Fet and Irina Shipitko had asked the Tverskoi district court
to overrule a decision by a registry office which refused to endorse
their marriage in May. It quoted Russian laws which describes a
marriage as a 'union between a woman and a man.' … The judge refused their request,' spokeswoman Alexandra Berezina said without giving further details. Although
post-Soviet Russia no longer prosecutes homosexuals as criminals and
many high-profile Russians manifest their same-sex alliances, gays and
lesbians remain public outcasts…A bid by Fet and Shipitko to register their marriage, the latest in a
string of similar failed attempts, has been aimed at changing public
perception of homosexuality in Russia."