A proposal to allow same-sex couples on the school's Homecoming Court has been shot down by the governing student body at the University of North Texas, the Dallas News reports: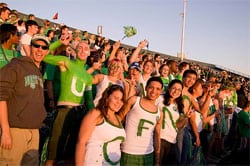 "Five of the
senators at the meeting voted Thursday to amend the Student Government
Association's bylaws, 10 voted against and eight abstained. Jason Howeth, a junior who represents the College of Music, said he
voted against the proposal because of opposition from parents who
threatened to remove their children from the school and alumni who said
they would withdraw their financial support. He also said
that the current student regulations do not prohibit homosexuals from
running for a homecoming court position. Current student regulations state that the homecoming couple comprises a man and a woman."