The Telegraph's Richard Eden reports: "'We were in Africa for the [Sir Elton John] Aids Foundation and met a
boy, and immediately thought about adopting him,' the film producer
(Furnish) disclosed at the launch of Stephen Calloway's book Gosling: Classic
Design for Contemporary Interiors, at the Ritz…'When we found out he had a maternal grandmother, and brother and
sister, we realised it wouldn't be the right thing to take him away
from the family he had there,' he told me."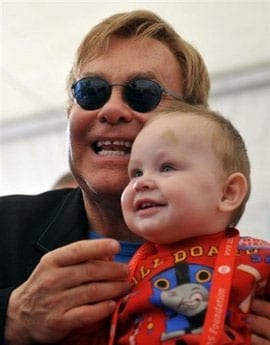 Meanwhile, the mother of Lev, the Ukrainian orphan that the couple has given up hope of adopting, is speaking out:
"The mother, known only as Marina, told the Sun newspaper that she
wanted to get her life back on track so that she could retrieve her son
from the Ukrainian orphanage where he now lives. 'I love him so much and desperately want him back so I can hold him,' she told the tabloid in Mariupol, eastern Ukraine. The woman, an impoverished alcoholic who is HIV positive, had both of
her children taken away from her by social workers, according to the
newspaper. 'I know Elton fell in love with my Lev. I saw him holding him and
kissing him on TV and in the newspapers. I understand Elton's feelings.
Lev is a very funny and cheerful boy. It's impossible not to love him,'
she said. 'But I'm going to overcome my problems. I so much want my babies back.'"
After Elton expressed interest in adopting from the Ukraine in early September, he was thwarted by an official who said he couldn't adopt because he's gay and too old.