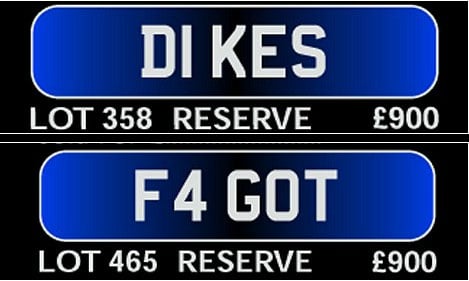 Two license plates have been pulled from an auction of personalized plates by the Driver and Vehicle Licensing Agency in the UK:
"The two registrations – F4 GOT and D1 KES – were to have been among 1,600 auctioned at a sale this week. But
Stonewall, the gay rights charity, objected to the DVLA profiting from
the sale of the insulting numberplates and they were dropped from the
auction, which is expected to raise £3.5million…Stonewall argued that F4 GOT – due to go under the hammer for at
least £900 – could, when displayed on a car, be read as 'FAGOT', a
derogatory term used to refer to gay men. Likewise, campaigners said, D1 KES could be read as 'DIKES' – similar to the insulting term 'DYKES' levelled at lesbians. That plate also had a £900 reserve. The registrations will still appear in the catalogue for the auction on Wednesday in a hotel in Broadway, Worcestershire. But when the lots come up the auctioneer will announce that they are no longer for sale. James Lawrence, of Stonewall, which is supported by a host of celebrities including comic Alan Carr, singer Dannii
Minogue and ex-EastEnders star Michael Cashman, said last night: 'It is
regrettable that personalised numberplates that could clearly cause
offence were made available."