Chris Skinner was killed after being beaten and driven over by an SUV at 3 am on Sunday at Victoria and Adelaide Streets in the eastern part of downtown Toronto after a birthday celebration for his sister. He later died in the hospital. Skinner was gay. Toronto authorities are apparently not investigating if his murder may have been a result of his sexual orientation, and that has some of his friends concerned: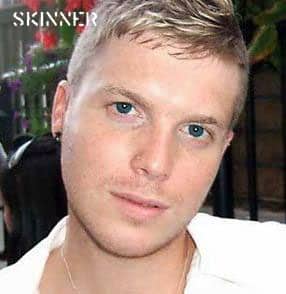 "'It was unfathomable that it happened the way it did,' Robert Moorhouse told ctvtoronto.ca Tuesday, adding that one of the Toronto Police Service homicide detectives has said it is pure speculation to think Skinner's sexual orientation played a role. … 'He has no history of violence. I've known him six or seven years, and I've never known him to pick a fight,' he said.
'If there were some verbal taunt directed towards him, Chris may have responded in kind,' Moorhouse said. 'What has caused me sleepless nights is just trying to visualize what happened at the end,' he said.
Fights happen, but 'the fact is they actually left him on the street and then drove over him,' he said. 'To actually get into an SUV and deliberately run somebody open, to extinguish their life, that has no justification…Either [police] know more than they are saying and they are just trying to
dampen down speculation, or they are just being wilfully blind to the
fact that gays and lesbians suffer violence on our downtown streets on
a regular basis."
Xtra reports: "The number of attackers has not been confirmed, but it is believed
there were at least two and possibly three or four. The make and model
of the SUV and its licence plate number were not yet known, but police
will be combing over surveillance video from the area to see if it can
be determined…Anyone with information is asked to contact Detective Stacy Gallant at
416−808−7410 and Detective Doug Dunstan at 416−808−7406, or Crime
Stoppers anonymously at 416−222−8477 or online at www.222tips.com."