Here's another big bag of crazy.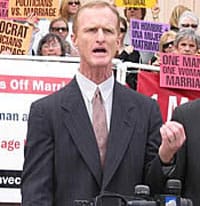 "Ex-gay" "Christian" activist James Hartline lays out the real reasons Chicago failed to get the 2016 Olympics. Chicago failed because Mayor Daley approved the Gay Games in 2006, which was a staging gesture for the Olympics. Chicago also failed because Hartline and homophobic wingnut Matt Barber were "attacked" while preaching hate at the 2006 Gay Games in the Windy City, causing God to unleash a force upon the city's "demonic gay agenda":
"Because former homosexual James Hartline and the other Christians were willing to risk their lives for the Gospel while the world was glorifying homosexuality in Chicago, the Spirit of the Lord was released upon Chicago's demonic gay agenda in 2006.
The Spirit of the Lord began contending with the anti-christ spirit inside the City of Chicago from that day forward. Thus, when President Barack Obama, Chicago Mayor Richard Daley and their armies of gay activist supporters in Boys Town attempt to square the reasons for their failure to garner an Olympic Bid for the Windy City, they had better recount the day that the Wind of the Holy Spirit was emparted into Chicago in 2006."