Human Rights Campaign refuses to comment on ENDA delay, accuses journalist Rex Wocker of being "out of touch" with group's efforts.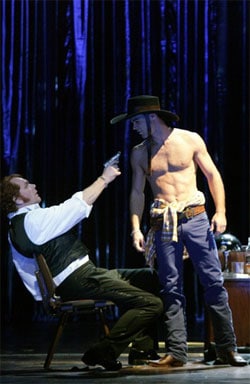 Opera's "barihunks" get some attention.

Jake Gyllenhaal may or may not be a single man.

L.A. Times condemns Catholic, Protestant, and Orthodox signers of the anti-gay Manhattan Declaration. "They need to be reminded that this is a nation of laws, not of men — even holy men." The Village Voice chats with one of the signers.

Chelsea Clinton engaged to Marc Mezvinsky: "We're sorry for the mass e-mail but we wanted to wish everyone a
belated Happy Thanksgiving! We also wanted to share that we are
engaged! We didn't get married this past summer despite the stories to
the contrary, but we are looking toward next summer and hope you all
will be there to celebrate with us."

Tiger Woods asks for privacy following weekend car accident/domestic argument.

Catholic Church in Ireland covered up thousands of child sexual abuse cases. Here's the video report on CNN.

AP: civil union vs marriage debate is back. "Dan Hawes, the head organizer for the National Gay and Lesbian Task
Force, agrees that it makes sense to seek even limited legal
protections in states where gay people have none, but disagrees that
fighting for marriage has detracted from that work. 'It's not that these fights are mutually exclusive of each other, so
that's why we don't think it makes sense to negotiate against
ourselves,' Hawes said."

Salt Lake Tribune profiles transgender cop in Bountiful, Utah: "Although some employees have
trouble remembering to use masculine pronouns, Bountiful Police Chief
Tom Ross says, 'everyone's done a great job of accepting Kerry and
staying focused on why we're here in the first place.'"

Mark boyfriend David Blue in talks to return to Ugly Betty.

T Magazine profiles Madrid-based Candy publisher Luis Venegas.

Scientists develop rainbow trap.

Soup Cans talks to newscaster Jane Velez-Mitchell: "My coming out as gay has not only NOT negatively
impacted my career, it's actually been a plus! People love it when you
reveal yourself for who you really are. The fact is most people are
pretty much obsessed with themselves so they don't really care who you
fall in love with. All the fear I had about coming out was
self-generated. The sky didn't fall down. The sun came up the next
morning. Eureka!"

Melting: Polar Bear habitat shrinking as ice thins.

First nightclub for Bears opens in Tel Aviv.

A look inside the Burj Dubai.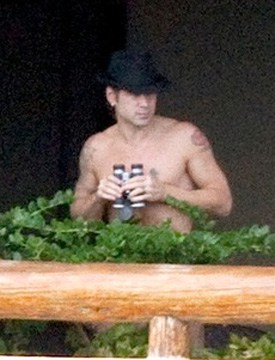 Colin Farrell on look-out for paparazzi in Mexico.

Transcript: Northwest pilots who overshot were "distracted" by "company issues" in the cockpit.

New worry for gay men with HIV? "A rare parasitic disease, which normally only is transmitted by
contaminated water, has been shown to be transmitted by gay sex between
hiv-positive men. In the industrial world the disease is virtually
absent, but from now on that could change."

The NYT profiles Madonna squeeze Jesus Luz.

Mormon leadership not signed on to anti-gay Manhattan Declaration: "So where are the Mormon representatives on this illustrious list? Are
they truly backing off their longstanding opposition to gay civil
rights?"

Bionic eye: Blind man sees for first time in 30 years. "The images I see move and that takes a bit of getting used to, but I
can see cars – they look like cotton wool. It's exciting to be part of
the trial."