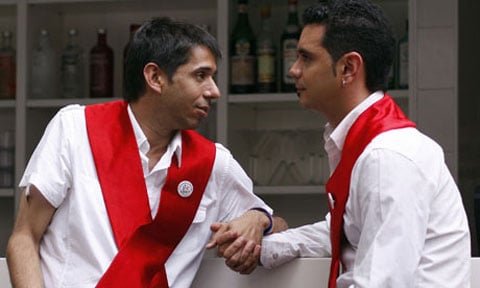 UPDATED: No sooner had I posted about the upcoming wedding, that this bad, yet not surprising news rounded the bend.

An Argentine judge has overturned the ruling that would have allowed the nation's first same-sex marriage: "The official court Web site says national judge Marta Gomez Alsina ordered the wedding blocked until the issue can be resolved by the Supreme Court.
Jose Maria Di Bello and his partner Alex Freyre have been planning to wed on Tuesday, based on another judge's ruling. Their attorney says they'll still try to go ahead with the ceremony because they weren't told of Monday's ruling.
Attorney Maria Rachid argues that the new ruling should not overturn the original decision to let them wed.
Earlier…First Same-Sex Marriage to Take Place in Argentina Tomorrow…
Alex Freyre (left) told the UK Observer:
"This marriage is bigger than José María and I. It is a victory for all who face prejudice and discrimination across
Latin America and the Caribbean. It is proof that at last the grip of
the Catholic church is slipping across Latin America, the system that
has kept gay communities silent and fearful is crumbling. What is
happening on Tuesday is a strike against those attitudes that have
repressed sexual rights across this continent for too long."
Previously…
Judge in Argentina Rules Gay Couple Can Marry [tr]