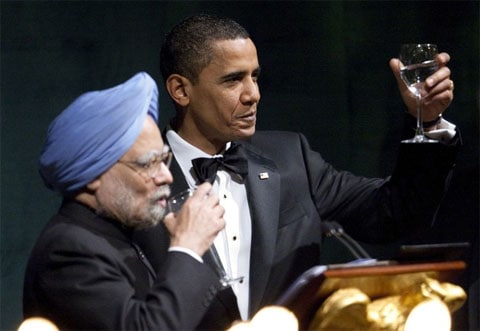 Last night, Obama held his first state dinner for Prime Minister Manmohan Singh of India and his wife, Gursharan Kaur.
NYT: "Mr. Obama greeted his guests in Hindi and hailed the contributions of Mohandas K. Gandhi and the Rev. Dr. Martin Luther King Jr., saying that such "giants" are "the reason why both of us can stand here tonight."Mr. Singh responded, "Your journey to the White House has captured the imaginations of millions and millions of Indians."The evening was a potent mix of politics, diplomacy and glamour, with the administration's favored donors mingling with lawmakers from Congress, cabinet secretaries, Indian dignitaries and Hollywood celebrities decked out in tuxedos and designer dresses. The first lady wore a golden sleeveless gown created by Naeem Khan, an Indian-American designer.For Mr. Obama, it was also a rare break from the bruising business of governance, allowing him to showcase his role as a world leader (and a gracious host) at a time when he is managing battles over health care legislation and wars in Afghanistan and Iraq — all while watching his standing falling in the polls."
Among the gays and lesbians attending the dinner were U.S. Export-Import Bank Chair Fred Hochberg and partner Thomas Healy, activist and author Urvashi Vaid and comedian Kate Clinton, Facebook co-founder Chris Hughes and partner Sean Eldridge, and David Geffen and partner Jeremy Lingvall.
Here's the full guest list.
AC360's report on the event, AFTER THE JUMP…