Despite calls from his own party to approve marriage equality and not override same-sex civil union laws recently passed in the Australian Capital Territory, Prime Minister Kevin Rudd will do just the opposite, The Australian reports: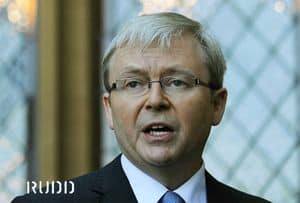 "In the latest run-in between the commonwealth and the ACT's Labor government on the divisive issue, Chief Minister Jon Stanhope said Attorney-General Robert McClelland had indicated during a recent meeting that the Rudd government would quash the amended legislation.
"They are prepared to intervene to overturn the recent amendments to the civil union legislation in the ACT," Mr Stanhope said of his Monday meeting with Mr McClelland. "I indicated bluntly that this was unacceptable."
Earlier this month, the ACT government amended its civil partnership legislation to allow public ceremonies following a move by the Greens, who now form a minority government with Labor. The move set the ACT on yet another collision course with the commonwealth, which on three previous occasions has intervened to kill, or dilute, various civil union bills passed or mooted by the ACT Legislative Assembly."
Said a spokesman for the attorney general: "The government's position is that the most appropriate way to achieve
this is through the development of a nationally consistent framework
for relationship recognition."