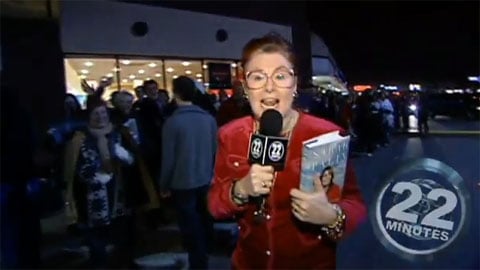 Canadian comedienne and news personality Mary Walsh, as her character Marg Delahunty, ambushed 'Alaskan Aphrodite' Sarah Palin at an Ohio book-signing, asking for encouragement for Canada's conservatives who want to rid the nation of "socialized medicine."
Walsh's show, This Hour Has 22 Minutes, is a parody of the nightly news.
Palin told the comic that Canada needs to dismantle its public health-care system to allow private enterprise to take over.
Watch, AFTER THE JUMP…
In related news, DailyKos reports that Palin has reportedly been tooling around in a private aircraft owned by The Samaritan's Purse, an organization run by the son of Billy Graham:
"In her book tour, Palin claims that she's just like the rest of us, riding her tour bus from town to town.BULLSHIT.Samaritan's Purse is flying Sarah around in one of its aircraft. She lands near her next book rally, gets on the bus, and rides into town on the bus.Palin is flying around in a Beechcraft/King Air 300tail number N262SP (multi-engine, 11 passengers). The SP does not stand for Sarah Palin — the plane is owned by Samaritans Purse.This means that donations to SP are being used to haul Palin's carcass around. Wonder what the donors think of that?Hmmm. Does this violate Samaritan's Purses 501c(3) status?And — get this — I tried to check the flight activity for this airplane (N262SP) at Flightaware.com. The flight activity for this plane is blocked by the owner. Guess he doesn't want anyone to know where he is flying."